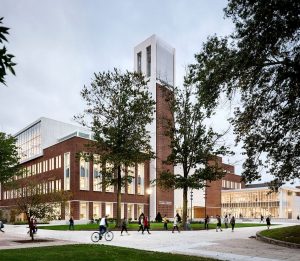 SALISBURY, MD—Salisbury University's Patricia R. Guerrieri Academic Commons is one of the top 20 college and university libraries in the U.S., according to The Princeton Review's 2021 "Best 386 Colleges" rankings.
Opened in 2016, the award-winning facility quickly became the hub of academic life on campus, housing not only a traditional library, but museum, archival, study and presentation space; computer labs; a 3-D printing "MakerLab"; and academic centers including the Edward H. Nabb Center for Delmarva History and Culture, SU Writing Center, Math Emporium and Center for Student Achievement.
SU couples these offerings with a "stellar reputation … [of] challenging courses," providing "everything a student needs to succeed," according to students surveyed for the "Best 386" ranking, which places the University in the top 15 percent of four-year colleges in the U.S.
"The hard work of our students, faculty and staff, combined with state-of-the-art facilities, makes SU stand out among colleges and universities nationwide," said Dr. Karen Olmstead, SU provost and senior vice president of academic affairs. "We are thrilled that The Princeton Review once again has recognized their dedication and effort with such high praise."
Spotlighted in the University's two-page review are the academic experience, the diversity of the student body, faculty commitment to students and scholarship, SU's dedication to student success, and the variety of student life activities available. Students applauded the campus as a place where their peers are "academically driven and focused," cultivating a cooperative environment.
In addition, The Princeton Review again named SU one of its "Best Northeastern Colleges" and among the nation's "Green Colleges." The sustainability accolade is an honor SU has earned each year since The Princeton Review first offered it in 2010.
The guide has spotlighted SU among the nation's "Best Colleges" for more than 20 years. During that time, other publications, including U.S. News & World Report, Kiplinger's Personal Finance, Money and Forbes, also have lauded SU for its academic reputation and value.
For more information call 410-543-6030 or visit the SU website at www.salisbury.edu.