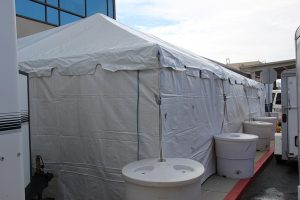 In its continuing effort to protect the health and well-being of patients, visitors and staff, Peninsula Regional Medical Center (PRMC) has established a COVID-19 triage tent adjacent to the walk-in entrance of the Robert T. Adkins, M.D. Emergency Trauma Center.
A nurse, positioned outside the emergency department 24 hours a day, seven days a week, will greet all patients and ask them a series of questions about their health.  Those include recent contact with a person confirmed to have COVID-19 and are they symptomatic with fever, cough and/or shortness of breath.  If determined that the person is at risk, they will be escorted to the triage tent for further evaluation by a healthcare professional.  If they are not considered at risk, they will be allowed entrance into the emergency department for care.
The tent is not for general COVID-19 screenings.  It has been erected specifically for Emergency Department patients meeting the screening criteria.  "Patients walking up or brought to the emergency department in severe distress will be taken immediately inside and placed in rooms designated to protect them and others from exposure," added Angie Brittingham, MSN, RN, CEN, CPEN, Clinical Director of the PRMC Emergency Department.
PRMC expects to use the triage tent for the foreseeable future as part of its COVID-19 enhanced visitor and patient safety processes.