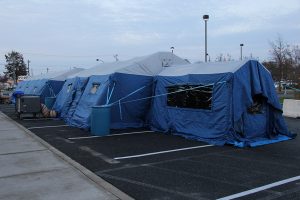 In its continuing effort to protect the health and well-being of the local community, Peninsula Regional Medical Center (PRMC) has erected a 20-bed inflatable portable hospital on its campus. The unit, which is self-contained and features heat and air conditioning, is stocked with basic medical supplies and 20 cots.  PRMC intends to use the regional medical station for patient overflow and surge control for a variety of conditions including the seasonal flu and COVID-19.
"We're placing the mobile regional medical station on our campus adjacent to the Emergency Department, which allows us to maintain a state of readiness in the event our region experiences the need to expand either Emergency Department or Inpatient bed capacity. Staffing will be in alignment with the needs of the population we are caring for in the mobile medical station," said Sarah Arnett, DNP, Vice President of Patient Care Services and Chief Nursing Officer at PRMC.
The tent measures 22 feet wide and 70 feet long and is wind rated up to 70 miles per hour.  It can be easily dismantled and reconstructed in about 45 minutes at a different location if needed. The Delmarva Regional Healthcare Mutual Aid Group (DRHMAG) originally purchased the tent.  The Maryland Emergency Management Agency (MEMA) is responsible for its deployment.  PRMC worked with Wicomico County Health Officer Lori Brewster, who made the official request through MEMA, to bring it to Salisbury.  As a regional asset, it is available to other hospitals and agencies on the Eastern Shore, and could be activated as a mobile hospital in response to any emergency or mass casualty event.
Responsibility for the mobile hospital now transfers to PRMC.  It is the only inflatable regional medical station on the Eastern Shore.