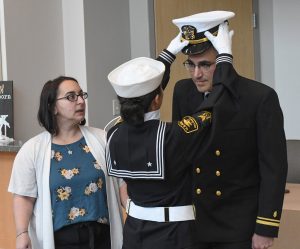 Chris DiPasqua, RN, MS, MAT, CCRN, was commissioned as an officer, Lieutenant Junior Grade, O-2, in the United States Navy on Saturday, December 14, 2019. The ceremony was held at Peninsula Regional Medical Center, where LTJG DiPasqua has been a registered nurse and nursing administrator since 2007, in the Medical Center's Hanna Outpatient lobby, which proudly displays the flags of the United State military service branches as a tribute to our loca
l men and women who are serving, have served or are still missing in action.
"I requested the ceremony be held here," said LTJG DiPasqua. "This is where my career began, the only hospital I have ever known, and other than while deployed, this is the institution I will return to and retire from, hopefully many years from now."
LTJG DiPasqua will serve as a critical care nurse practicing with our nation's military and humanitarian missions. At 45, he has been granted an age waiver as the maximum age to enter the United States Navy is typically 39 years old.
The highlight of the commissioning ceremony came when DiPasqua was honored with his first salute as an officer by his daughter, Zoey, who is a Petty Officer Third Class in the US Naval Sea Cadets. "Zoey has been nothing short of an inspiration to me with her lifelong commitment to wanting to serve her country as a naval officer. I have seen what her Navy mentors have developed in her and it has been absolutely awe-inspiring," said LTJG DiPasqua. "She has taught me through her own example that you are never too young to be a role model or your dad's hero, and never too old to follow your dreams."
Next for Dipasqua is reporting to Baltimore Naval Operational Support Center, where they will assign him a date for five weeks of officer training at Naval Station Newport, Rhode Island. Once he completes that assignment, he'll be volunteering for an overseas deployment that will likely last about six months.
DiPasqua graduated with a degree in Clinical Psychology in 2001 and earned his Master of Arts in Teaching in 2002, both from Towson University. In 2007, he graduated with his Bachelor of Science in Nursing, and in 2011 was awarded a Master of Science as a Clinical Nurse Educator, both from Salisbury University.
He has practiced at Peninsula Regional Medical Center since 2007, first as a nurse extern, then serving as a registered nurse in the Medical Coronary Intensive Care Unit, and has been an administrative nursing supervisor since 2010. He maintains his clinical skills by periodically working in the institution's Intensive Care Unit and Cardiothoracic Intensive Care Unit. He has achieved Critical Care RN certification through the American Association of Critical Care Nurses.
LTJG DiPasqua has taught as an adjunct faculty member at Salisbury University's Department of Nursing since 2009. In May of 2019, he was awarded the Nurse Leader of the Year award at Peninsula Regional Medical Center.