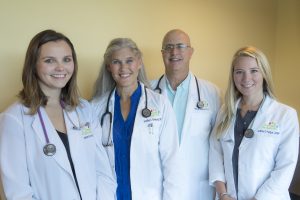 When Maryland's Reach Out and Read program lost its grant funding at the end of 2015, that did not stop Gateway Pediatrics from continuing the program with their own efforts. Since 2016, Gateway Pediatrics has invested over $11,000 and have handed out over 6,000 books to their patients.
During each well child visit from 6 months through 5 years of age, a child receives an age-appropriate book for their parents to start the love of reading. Literacy programs are key in this age group to help children become not only Kindergarten ready, but become life-long readers.
Per Dr. Jennifer Wehberg, "The Reach Out and Read program was a great starting point. I was adamant to continue a literacy program to get a book into the hands of every young child that comes into our office. Our waiting room has a small table and chairs right next to a book shelf for kids to read while they wait for their appointment. We have books in each exam room to help keep kids occupied. We also donate to the United Way's Imagination Library program which mails a book to children in our area each month."
Gateway Pediatrics is committed to helping our community foster a love of reading in children and are excited to continue this very important program in 2020 and beyond!
About Gateway Pediatrics, PA
Gateway Pediatrics is celebrating 10 years of serving newborns through 21 years of age in Salisbury, MD. Their mission is to provide quality, evidence-based pediatric care with an emphasis on individual needs. They are "The Gateway to your child's healthy future!" Learn more at www.gatewaypediatrics.com.