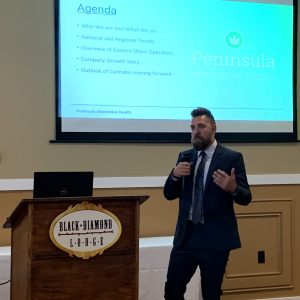 By Cathy Diekmann
Eight years ago, it was preposterous, actually impossible for the Salisbury Area Chamber of Commerce (SACC) to hold a General Membership Luncheon featuring the CEO of a medical cannabis business.  That business did not exist. It was not legal.
In 2021, the cannabis industry is not just legal in Maryland and many other states, it's a growth industry. It is an industry that offers intriguing opportunities – and its share of unique challenges.
On May 20, 2021, members of the SACC gathered at Black Diamond Lodge for a brief but fascinating education on the status of the legal, medical and adult use cannabis industry on the national, mid-Atlantic, and local levels.  The featured speaker was Anthony Darby, CEO of Peninsula Alternative Health/Peninsula Wellness and a regional expert in the industry.
Darby's venture into the medical cannabis industry launched in 2015 when he and three business partners were among the first to apply for a medical cannabis license in Maryland. As founders of the first and largest dispensary on the Eastern Shore, Darby's team aims to provide alternative medicine to patients who could benefit from safe access to quality cannabis.
The luncheon presentation began with a brief look back. Five to seven years ago, if you wanted to work in the cannabis industry, you had to go west to one of the few states where medical cannabis was legal, Colorado or California, in particular.
Now, if one were to summarize the legal cannabis market in one word, that word would be growth. "Any chart depicting the status of the legal, medical cannabis market and legal, adult use market will demonstrate extreme growth across the board," Darby asserts.  With industry growth, revenue growth follows.   "In Illinois right now, for the first time, they are deriving more tax revenue from cannabis than from alcohol sales."
Nationwide, small and big businesses in most industries are struggling to hire workers. Economic experts warn that this problem is putting a damper on the US economy's growth and recovery from the impact of the COVID-19 pandemic. However, Darby notes that the cannabis industry is an exception.  "We are a little insulated within our industry, the growth is so high, the passion and interest for employment in this field is so great, it's notable that we have no trouble hiring."
Regarding regional trends in the cannabis industry, Darby is "bullish" about the mid-Atlantic region. "Right now, the mid-Atlantic region is the fastest growing region for the cannabis industry and it's the most opportune time for this area."
Consistency among the mid-Atlantic states is a different matter. While there are some commonalities among programs, each program is vastly different because each state creates their own program regarding legislation, regulation, oversight, and scalability.  There is zero national standard, and no states are allowed to do business with other states.
For example, Virginia is the only state where the Board of Pharmacy has multi-level oversight of the medical cannabis industry. That means a pharmacist is required to be involved in every single stage of the business, including extraction and manufacturing. Darby explained, "The involvement of high-salaried individuals at every stage of the business, without a lot of conscientiousness, can really bump the cost of medicine up for the patient."
Darby foretells that recent passage of legislation regarding adult use in New Jersey will create a very competitive market. Neighboring states will face pressure to follow suit or lose considerable revenue. "Now, Pennsylvania and New York residents will likely drive to New Jersey to make cannabis purchases. That means related tax revenues will go out of state as well," Darby explained.
Darby admits that he is partial to Maryland's program, not just because his business operates in the state, but because the Maryland program is often emulated in new bills under review in other states. "It (Maryland's program) is considered the gold standard of how to implement a program."
That is not to say it was easy to break into the industry. Submitting their dispensary license to the Maryland Medical Cannabis Commission proved to be an uncertain and difficult time for Darby and his business partners.  "When we submitted our application is 2015, it was scheduled to be a 90-day review process, but it took the state 16 months to give us an answer." The entrepreneur chuckled, "That's why you saw me bar tending at Headquarters Live. I was waiting to find out if I would be the new owner of a cannabis dispensary or stuck as a bartender."  Years later, there are currently 16 growers, 17 processors, and 93 dispensaries in Maryland.
Lessons learned from their application process now inform Darby's ability to provide application and consultant support to new licensees.  "These are cool opportunities for our business to invest our time and resources into non-plant touching business. It really adds a lot of value to our organization from a long-term standpoint."
Darby and his colleagues are consulting with cannabis businesses in New Jersey and Delaware and submitting a license application to operate in Virginia. They are currently assisting a family-owned cannabis and hemp processing company that will be coming to the Eastern Shore soon. "This will offer good jobs in manufacturing, opportunities to partner with UMES (University of Maryland Eastern Shore) and create reasons for people to come to the Eastern shore for jobs."
The Federal level is a different story because medical cannabis manufacturing and sale is illegal. Federal legislators seem reluctant to vote in favor of cannabis legalization bills, but those bills could be put up for a referendum. "I'm not bullish that we are going to see a lot of movement at the federal level right now. But I do believe we will see more states participating under the current federal guidelines."
Darby projects that the Safe Banking Act or similar measure will pass in 12 months and be the first move on the federal level. If passed, such a measure would allow small community banks and federal credit unions to act as depository institutions in the cannabis industry. That could then spark the capital markets. "Right now, all the capital that comes into the cannabis space is equity for dollar capital because banks can't lend to us … none of our income is reportable as federally legal dollars."
Large companies, however, have the capital to get in the market more easily. For example, Anheuser Busch and other alcohol manufacturers are gobbling up cannabis processing licenses to make cannabis infused drinks. Darby predicts that beverage and edibles will be the two fastest growing markets in the legal, adult use space. Darby also projects that in three to five years, there could be a huge consolidation of multi-state companies taking over small operators like his. "That's why we are trying to grow so fast, because if you don't, you're going to die."
The tea leaves are there to read. Rite-Aid, the third-largest drug store chain in the US is now training all their pharmacists on cannabidiols (CBD) "That's a big step," Darby noted. "When big companies like that want to get involved, it shows that this is not a fly by night trend…more and more people are looking for holistic treatment options to achieve their health and wellness goals."
For more information about Peninsula Wellness and their offerings for cannabinoid evaluations, holistic retail, and community events and education, check out their website https://www.peninsulamd.com/