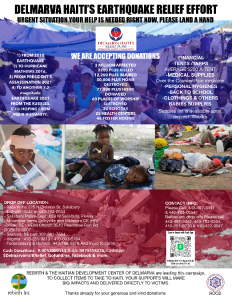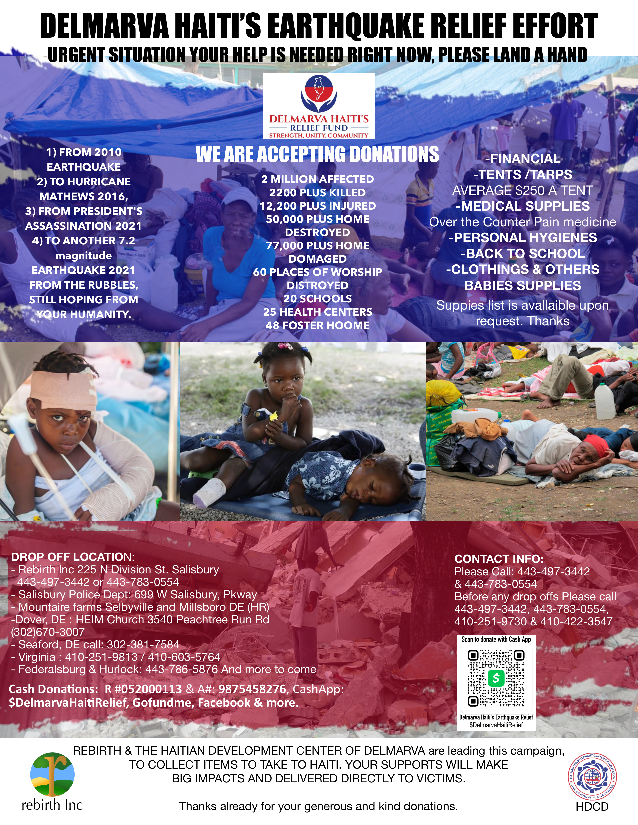 First of all; we want to voice our concerns and condemned the treatment that our Haitians brothers and sisters are enduring under the hand of the border police.
Many of you have watched the heartbreaking videos and pictures of the effects of the recent earthquake that has impacted many families in the Southern part of Haiti.
From a 2010 earthquake, to 2016 hurricane Mathews, from the president assassination to the 2021 earthquake, from the rubbles to Del Rio Texas, we have seen, heard the Haitian people struggles and even reached our shore.
Now it's our turn to react by helping them with shelters and rebuild their
livelihood; therefore, We are reaching out to you for your generous gifts and support in this campaign.
So, to bring emergency relief to the Haitian people, Rebirth Inc, and the Haitian Development Center of Delmarva Inc have joined hands and formed the Delmarva Haiti's Earthquake Relief effort to receive donations and emergency supplies which, we strongly believe, will make a positive impact on those affected families.We are reaching out to you, business partners and individuals to join hands with us to help and reaching our goal in this effort. In addition to emergency supplies, our monetary goal is to raise at least $125,000.00 which will enable us to bring temporary shelter, like tents and we target at least 500 families to give a tent and/or help start a rebuild their own houses.
We plan to travel to Haiti sometime this coming October, to initiate our distribution.
You can send your donation through direct deposit to: Routing #052000113 and Account#: 9875458276,
CashApp: $DelmarvaHaitiRelief, https://www.gofundme.com/f/delmarva-haitis-earthquake-relief or on rebirth4hope.org. by writing a check to:
Rebirth Inc Haiti Earthquake Relief & mail to: PO Box 3708 Salisbury MD 21802
We would like to thank you in advance for your generous contributions to this effort.