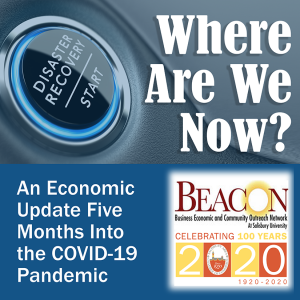 On Friday, May 29, 2020 at 11:30 AM, Salisbury Area Chamber of Commerce / Salisbury, MD, and Beacon at Salisbury University will pressent "Where Are We Now? An Economic Update Five Months Into the COVID-19 Pandemic."
We will look ahead to evaluate which business sectors have the opportunity to recover swiftly and which are likely to struggle.
Economists Dr. Leonard Arvi and Dr. Dustin Chambers of Salisbury University will explore current and future trends in the Retail & Consumer Services and Food & Beverage Industry; Construction & Real Estate; Utilities, Manufacturing, & Transportation; and Healthcare & Education sectors.
This webinar is a follow-up to "Unlocking the Future: A Four-Part Webinar Series Exploring the Post-Pandemic Success Scenarios for Key Economic Activity Sectors" held on May 15, 2020.
The series featured guest panelists representing each of Delmarva's major business sectors. Dr. Memo Diriker and experts from BEACON moderated and provided statistical insights for each sector.
Full coverage of each session can be viewed at the links below. Passwords are provided to view each session.
11:00 AM
RETAIL & CONSUMER SERVICES and FOOD & BEVERAGE INDUSTRY
John Knoor – Southern Boys Concepts
Denise Davis – Centre at Salisbury
Password: 9A#77A$+
12:00 PM
CONSTRUCTION & REAL ESTATE
Brad Gillis – Gillis Gilkerson
Joni Martin Williamson – President of ERA Martin (Salisbury) and President-Elect of Coastal Association of REALTORS®
Password: 6Y$3+016
1:00 PM
UTILITIES, MANUFACTURING, & TRANSPORTATION
John Allen – Delmarva Power
Cliff Grunstra – Delmarva Central Railroad
Password: 2H+$%!2@ 
2:00 PM
HEALTHCARE & EDUCATION
Dr. Ray Hoy – WorWic Community College
Dr. Donna Hanlin – Wicomico County Public Schools
Chris Hall – Peninsula Regional Medical Center
Password: 3T@348*8