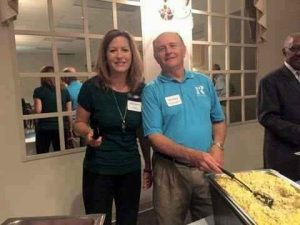 The Recovery Resource Center (RRC) is looking for additional sponsors for its annual REVIVE RECOVERY BREAKFAST to be held on October 12, 2023 at Dove Pointe.
There are few people on the Shore that can say addictions have not impacted them or someone they know, and having continuous access to support during the recovery process is critical to success. As the hub of recovery in Wicomico County, the RRC provides 12-step programs, non-alcoholic social events, and important life skills workshops, helping those in recovery reintegrate into the community and build a strong network of support. The RRC interacts with clients over 35,000 times every year. The RRC, in partnership with the Wicomico County Health Department, also houses a 24/7 Safe Station for anyone seeking urgent help. This program helps eliminate barriers to treatment by linking those in crisis with a peer support specialist who can help connect them with resources such as in-patient rehabilitation programs.
The RRC will be hosting its annual fundraising breakfast, Revive Recovery, on October 12th at Dove Pointe. As the major fundraiser for the RRC, additional event sponsors are needed. All proceeds  go to help provide programs free of charge to our community.
"We would like to thank our community for all their support," said Tom Evans, RRC Board of Directors' Fundraising Chair. "The RRC exists because of this critical funding from our community. The breakfast is our primary fundraiser each year and provides us a time to come together for food and fellowship as we hear from inspirational speakers about the challenges of addictions and  triumphs of recovery." Platinum Sponsors for the 2023 event include Avery Hall Insurance, Hudson Health Services, the Richard A. Henson Foundation, Homes4Hope and Salisbury University.  There are numerous sponsorship opportunities still available.
"I cannot thank our sponsors enough," said Lisa Campbell, Executive Director. "We provide support 7 days a week, all year long. All services are provided free and are open to the public. The only way we can continue to help those struggling to get out of the grip of addiction is through the support of our community. I truly believe that together we can make significant strides, supporting  those in recovery at a critical time in their journey."
For more information about the Recovery Resource Center's Revive Recovery Breakfast, ways you can support this event or for more about services provided by the RRC, please visit  ww.rrcsby.org , call us at 410-749-9482 or recovery@rrcsby.org.