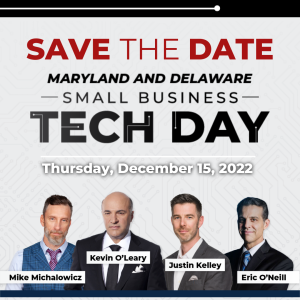 IMPACT Technology Group, a Maryland and Delaware based Technology Services Provider, is hosting the first ever Maryland and Delaware Small Business Tech Day in December.
This event will be the first of its kind for businesses to learn about the technology forecast for 2023, how business technology is radically changing, and what you need to do to prepare.
The event will be headlined with speakers including "Mr. Wonderful" Kevin O'Leary from Shark Tank; Mike Michalowicz, a well-known author of many business books published for small business success; Eric O'Neill, former FBI agent and world-renowned security expert and Justin Kelley, Technology and Cybersecurity Expert for Small Businesses.
You can REGISTER NOW find out more about the event here: http://www.smallbusinesstechdaymd.com/