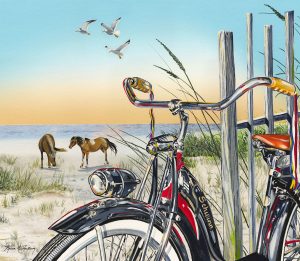 SALISBURY, MD—Registration is open for Salisbury University's 31st annual Sea Gull Century bicycle tour this fall. The ride is set for Saturday, October 5.
The recently unveiled 2019 Sea Gull Century artwork was created by Eastern Shore artist Kevin Snelling. The painting features a seashore scene with seagulls and Assateague Island's famous wild ponies. A bicycle in the foreground is a vintage Schwinn Panther, based on a 1950s model held by the National Museum of American History.
Planning for this year's ride is well underway by the Century's Volunteer Committee. The team is coordinating rest stops, registering expo vendors and managing registration.
A 2018 study by SU's Business, Economic and Community Outreach Network (BEACON) showed that 95 percent of Century participants plan to return again. Many note the flat, safe course, and a positive experience with campus volunteers and in Salisbury. The bulk of visitors' spending has a direct impact on the Eastern Shore, through hotels, restaurants, gas stations and retail stores.
The Sea Gull Century is among the oldest rides of its kind on the East Coast. Thousands of cyclists are expected for the traditional 100-mile Assateague century and the 64-mile Princess Anne metric route. All proceeds support programs on campus and in the community, including SU student scholarships and faculty grants.
For more information about the ride, or to register, visit the Century website at www.seagullcentury.org.