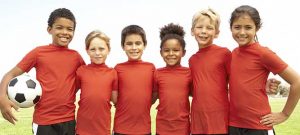 SALISBURY, Md. – Boys and girls from age three through grade eight can work on their soccer skills this fall as part of Wicomico County Recreation & Parks' Wicomico Youth Soccer League.
Participants in the program, which begins Aug. 24, will also learn the values of sportsmanship and teamwork.
Little Strikers is for kids ages 3-5, Division I is for kindergarten and first grade, Division II is for second and third grades, Division III is for fourth and fifth grades and Division IV is for sixth through eighth grades.
Participants in Little Strikers through Division II will play Saturday mornings at WinterPlace Park. Divisions III and IV will play Saturdays and weekdays as needed at WinterPlace Park and other County parks.
Registration is open now and is $50 for an individual or $350 for a team (Divisions III and IV only). Registration after Aug. 1 is based on availability; late fees also kick in after Aug. 1.
Registration is available at the Wicomico Youth & Civic Center box office (Monday-Friday, 9 a.m.–6 p.m.) and online at www.WicomicoRecandParks.org. Contact Derek Jarmon at 410-548-4900, ext. 113, or email djarmon@wicomicocounty.org.