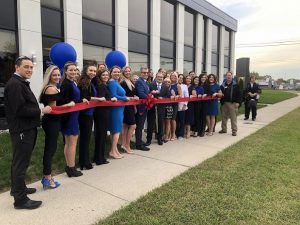 Renaissance Med Spa celebrated the opening of its new location at 318 West Carroll Street in Salisbury on October 25 with a grand opening and Salisbury Area Chamber of Commerce ribbon cutting celebration. Founded in 1995, the company is a subsidiary of its now neighbor, Peninsula Plastic Surgery.
Following opening comments from Chamber Director of Membership, Cathy Diekmann, Practice Administrator Jennifer LeCates gave a heartfelt welcome to attendees.
"Thank you all for coming out tonight; we appreciate everyone coming to celebrate with us. It really means a lot to have the community come out and share such a great event. I want to thank Drs. Chris Pellegrino and Vincent Perrotta; they own and started Peninsula Plastic Surgery, which is right next door. And they opened Renaissance Med Spa, which was the first med spa on the Eastern Shore."
LeCates also mentioned the longevity of the business and introduced its employees.
"Peninsula Plastic Surgery has been here for 25 years and we just keep on growing, so we're going to be here for a very long time. I'd like to introduce Kerri Holloway, our Nurse Practitioner, and Lesley Hooker; she is our Med Spa manager, so she's over here full time. And we have our lovely four aestheticians, Emily, Kyle, Dana, and Carla."
The evening offered, along with hors d'oeuvres and libations, tours of the new facility, promotional discounts, and demonstrations of the practices offered services, including hydrafacials, microdermabrasion, and dermaplaning.
The spa also provides skin care consultations, microneedling, chemical peels, airbrush tanning, waxing and LHE hair removal, as well as specialty services such as lash and brow tints.
For more information, contact the spa at 443-210-2039 or consult their website at yourrenaissancemedspa.com.
###
Written by:
Morgan Coulson
Director of Marketing, Media, & PR
Salisbury Area Chamber of Commerce
144 E. Main Street
P.O. Box 510
Salisbury MD, 21803
Phone: 410.749.0144
Fax: 410.860.9925