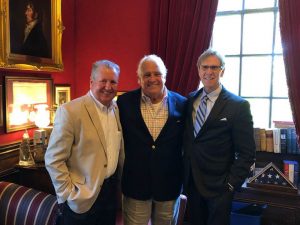 Bill Chambers, President/CEO of the Salisbury Area Chamber of Commerce and Mike Dunn, President/CEO of the Greater Salisbury Committee, met with Maryland Senate President Thomas V. "Mike" Miller in Annapolis on June 11, 2019.
Chambers and Dunn spoke with Senator Miller on a variety of issues impacting the Lower Eastern Shore and Maryland.
This was the second meeting of the three in the past six months between the Senator and the heads of both Lower Eastern Shore organizations.