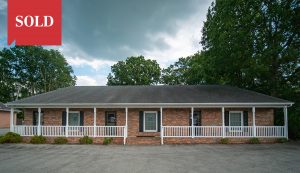 SALISBURY, MARYLAND – November 24, 2020 – Principal Chris Davis and Advisor Meredith Mears recently collaborated to sell a commercial building on the east side of Salisbury, Maryland. Upon their retirement, the owners of Delmarva Collections enlisted Davis to sell the property which they had occupied for more than 20 years. Mears recognized the building's redevelopment potential and quickly worked to secure a contract on behalf of a local investor and community revitalizer.
The +/- 3,744 square foot building is located on a bustling corridor connecting Routes 50 and 13, leading into the heart of Downtown Salisbury. The building is comprised of three separate units, one of which has already been leased to a medical tenant by NAI Coastal Advisor George Merritt. The remaining two units are available for lease and total +/- 1,250 square feet, each.
The purchaser has already begun renovations on the property and plans to continue its redevelopment in the coming months. "This property's location and existing leasing potential propelled the vision for the investor's redevelopment plans," said Mears. "The units are offered for lease at below market rates, giving potential tenants the opportunity to lower their overhead costs or make that jump to expand their operations."
The two now-vacant units offer flexible leasing terms with below market rates and options for custom build out. For leasing information or to inquire about other investment properties, contact Chris Davis or Meredith Mears at Chris@NAICoastal.com/Tori@NAICoastal.com,  Merry@NAICoastal.com or call 410-543-5115.
NAI Coastal is a full-service commercial brokerage headquartered at Riverview Commons, 150 West Market Street in Downtown Salisbury, Maryland. The team of ten advisors have comprehensive market knowledge and an unwavering commitment to the Delmarva region. In addition to brokerage and development, NAI Coastal rounds out their service offerings with consulting, which covers leasing, assemblage, acquisition and sale and investment advising. For more information please visit www.naicoastal.com or call 410-543-5115.
ABOUT NAI GLOBAL
NAI Global is a leading global commercial real estate brokerage firm. NAI Global offices are leaders in their local markets and work in unison to provide clients with exceptional solutions to their commercial real estate needs. NAI Global has more than 375 offices strategically located throughout North America, Latin America and the Caribbean, Europe, Africa and Asia Pacific, with 6,000 local market professionals, managing in excess of $1.15 billion square feet of property and facilities. Annually, NAI Global completes in excess of $20 billion in commercial real estate transactions throughout the world.
NAI Global provides a complete range of corporate and institutional real estate services, including brokerage and leasing, property and facilities management, real estate investment and capital market services, due diligence, global supply chain and logistics consulting and related advisory services. To learn more, visit www.naiglobal.com or www.naiglobalnewslink.com.