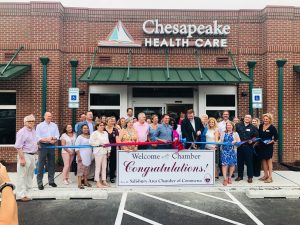 CEO Brian Holland greeted guests and shared information on the 7,200-square-foot state-of-the-art facility, which offers adult and pediatric care, behavioral health, and lab services to residents in Worcester County. The new facility replaced CHC's smaller medical office, located near Berlin Main Place.
"In the last few years, Chesapeake Health Care has been working hard to broaden our reach in the community as demand for our services has increased," said CHC's CEO Brian Holland. "We've outgrown our current office in Berlin, so we saw this new building an opportunity to expand our care offerings to keep pace with the growing needs of the community." This new state-of-the-art facility gives residents convenient access to a variety of health care services.
The new Berlin medical building features include 17 therapy rooms for Mental Health Services, 8 exam rooms, and a lab for Adult and Pediatric care. There is also space to provide group therapy and telehealth treatment.
The hours of operation will be:
Pediatrics:  Monday – Friday – 7 am – 5 pm
Adult Medicine:  Monday – Friday 7 am – 5 pm
Mental Health:  Monday – Thursday 7:30 am – 6 pm; Friday – 7:30 am – 5:00 pm
CHC is now accepting new patients in Berlin. For more information, or to schedule appointments, please call 410-973-2820 or visit www.chesapeakehc.org.