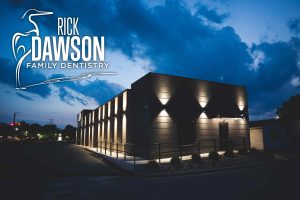 Salisbury, MD – The Principals of Gillis Gilkerson (GGI) are pleased to announce the firm's completion of an addition to the office of Rick Dawson Family Dentistry located at 835 Snow Hill Road in Salisbury, Maryland. The project adds approximately 1,000 square feet to Dr. Dawson's practice, allowing for expanded patient care. Led by Project Manager Jared King with onsite management provided by Superintendent Brian Mason, this build was executed seamlessly with no interruption to the dental office's ongoing operations.
"I found that Gillis Gilkerson was the easiest and most informative to work with," said Dr. Rick Dawson, DDS. "The project manager and superintendent did an excellent job keeping the construction isolated as our practice continued running throughout the course of the build. They addressed every concern I had about sound, dust, and exposure to our patients."
Working with Dr. Dawson to incorporate cutting-edge technology with modern, innovative design concepts, Gillis Gilkerson's construction team successfully expanded the original building in a timely fashion. With the completion of this project, Dr. Dawson is poised to offer enhanced service to a wider patient base.
"We are excited to celebrate the completion of this build alongside Dr. Rick Dawson," said Tyler Barnes, President, Gillis Gilkerson. "The larger facility will undoubtedly provide more patients with exceptional dental care, and we look forward to witnessing the positive impact it will have on our community."
Rick Dawson Family Dentistry remains dedicated to delivering quality dental care, and this expansion project reflects their commitment to ongoing improvement and innovation. For more information on the practice's service offerings, visit www.rickdawsondds.com.
About Gillis Gilkerson
In its 39th year of building and real estate development on Delmarva, award-winning Gillis Gilkerson has built a reputation as one of the most trusted and stable construction management and general contracting firms on the Peninsula. From new commercial construction to renovation, the company's construction managers offer broad and deep experience in diverse industries such as medical, industrial, manufacturing, hotels, multi-family housing, houses of worship, restaurants, retail, schools and more. Its full-service real estate development expertise offers custom solutions for land purchase, building program development, turnkey project management, obtaining permits and approvals, property management, property marketing, purchase, lease, and lease/purchase options. The team works in conjunction with architects, government planners, engineers, surveyors, inspectors, contractors, and leasing agents to manage the development process from concept to completion.