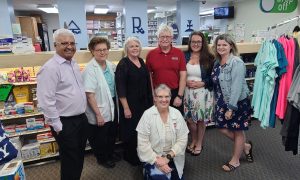 The Salisbury Area Chamber of Commerce's August Business After Hours was hosted on Thursday, August 11 by Riverside Pharmacy, a member and strong supporter of the SACC since 1995! 
Owner Sanjay Rayathatha welcomed guests, Karla Christie, the pharmacist in charge at Riverside Pharmacy, Buddy Richardson, the pharmacist in charge at Milford Pharmacy, and the rest of his staff. 
Locally owned and operated for more than 46 years, Riverside Pharmacy was acquired in January 2020 by pharmacist Sanjay Rayathatha.
Rayathatha shared, "Our goal is to keep it simple, support the community and make sure our customers feel they are part of our family." 
Along with Milford Pharmacy, Riverside Pharmacy Riverside Pharmacy offers a unique blend of cutting-edge technology and old-fashioned personal service, paired with the most up-to-date medical knowledge. They are committed to quick, convenient service with a drive-thru window, having you on your way in 15 minutes or less!
Riverside Pharmacy offers refills, easy transcription transfers, flu vaccines, immunizations, blood pressure testing, medication synchronization, FREE children's vitamin program, durable medical equipment, walker and wheelchair rentals, and so much more! And FREE prescription delivery is offered to Salisbury and surrounding areas.
Pharmacist Karla Christie also shared that they have a packaging program where they can break down your medications into daily dosages. 
ScripTalk, an audible medication label technology designed to give access to individuals who are blind, visually impaired, or print impaired, will also soon be offered. ScripTalk consists of a device and a microchip attached to the bottom of a prescription drug bottle.
Another service they have is the Women's Health Boutique, administered by Lisa Coleman, which specializes in providing a comfortable environment for women throughout their journey with breast cancer. The boutique offers post-mastectomy prostheses, post-surgical garments, radiation skincare, and more. 
Want to send someone you know a chemo care package to brighten their day? Riverside will deliver.
BAH Guests enjoyed lite fare from Roadie Joe's, wine, and door prizes. SACC member Ed Horan of Tidemark Federal Credit Union won the 50/50 raffle, which benefits the SACC Foundation Wor-Wic Scholarship Fund.
Visit Riverside Pharmacy at 540 Riverside Drive, Salisbury, MD 21801, or visit their website at www.riversidepharmacies.com.