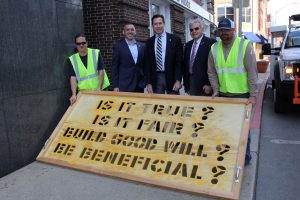 Salisbury city employees Pete Torigoe, left, and Joseph Smith, far right, join, from the left, Salisbury Mayor Jake Day, Rotary Club of Salisbury President Mark Granger and 4-Way Test Committee Chairperson and Rotarian Steve Capelli in the annual painting of the Rotary Four-Way Test on a sidewalk in downtown Salisbury on Wednesday, April 17.
Later this month, the Rotary Club of Salisbury will present the Four-Way Test Award, its most prestigious honor, to an individual who in their daily lives exemplify the Rotary Four-Way Test: Is it the TRUTH?  Is it FAIR?  Will it build GOODWILL and better FRIENDSHIPS?  Will it be BENEFICIAL to all concerned?
The awards dinner is scheduled for April 25 at Dove Pointe in Salisbury.