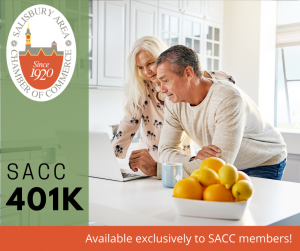 Steve Smith and Jill Hall in cooperation with the Salisbury Area Chamber of Commerce are pleased to, announce the first members of the Multiple Employer Aggregation Program (MEAP). The MEAP is a retirement plan platform offered only to members of the Salisbury Chamber.
Offering discounted fees, fiduciary liability protection, and decreased administrative responsibilities, the MEAP is attractive both for new and existing plans. 
Already have a retirement plan?
Now's a perfect opportunity to reach out to the team who will review and benchmark your plan and assess whether it's meeting your goals—or if transitioning to the SACC 401(k) program could better meet your needs.
Considering a retirement plan?
A 401(k) program can be a powerful tool for keeping the quality people you have on board and bringing in new talent. Joining the SACC 401(k) program could be the most cost-efficient solution. There are also Tax Credits to help pay for startup costs and administrative fees.
The MEAP is offered with Lincoln National as the record keeper. Morningstar is bearing the fiduciary responsibility and The Retirement Advantage is the third party administrator. While the 401(k) model gets the greatest attention, the MEAP can accommodate a variety of plan designs. 
For more information visit https://salisburyarea.com/chamber-membership/benefits/sacc-401k-retirement-plan/ or contact:
Steve Smith
410-251-6907
ssmith@pilotfinancial.com
Jill Hall and Jenna Drewer
410-651-2110 Option 504
kjhall@securitiesmail.com