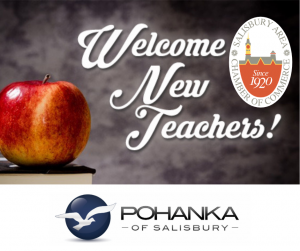 SALISBURY, MD – With the upcoming 2021-2022 school year, after more than a year of virtual learning, many teachers and students will be looking forward to a full year back to in-person learning. Soon, children will be heading back to school, and Wicomico County will become home to many new teachers.
Relocating to a new area can be a daunting experience. Salisbury Area Chamber of Commerce hopes to make the new teachers feel welcome by providing almost 200 "Welcome Bags" to the new public and private school teachers in Wicomico County.
"The Salisbury Area Chamber of Commerce and our very generous members welcome and support all new teachers to Wicomico County. The New Teacher Welcome Bag program is a small token of the business community's appreciation for these ladies and gentlemen as they prepare to educate our young citizens. We wish to extend a special thanks to the team at Pohanka Automotive Group of Salisbury.  Their ongoing sponsorship helps continue this yearly tradition," says Bill Chambers, SACC President/CEO.
The Chamber is encouraging local businesses and non-profits to donate useful items to these teachers for the upcoming school year. It is a great advertising opportunity for businesses and a way to say "thank you" to the teachers.
"Many of these teachers are new to the area, and this will be one of the first contacts that they will have with our business community. We feel it is important to make them feel welcome as well as educate them on our area businesses and our community. This is also a fantastic opportunity to promote your business."
"We would love to provide even more goodies and community business "swag" such as advertising pieces, coupons, promotional products, goods with your company logo, etc. than ever before," says Chambers.
"In lieu of supplying promotional items, businesses may make a monetary donation, $100 – $150.00 would be ideal!  We will use your donation to purchase additional useful items to include in the bag.  The bags will have a note with the list of sponsors, so even if you donate cash your company will be recognized."
Details About Donating
The products, coupons, or promotional items should be delivered to the Chamber by Friday, July 23, 2021. We will need a minimum of 200 pieces to fill each bag and ask that you donate physical items, rather than flyers.
A Welcome Bag stuffing event will be held at the Chamber on August 3, 2021, and the bags will be delivered to the teachers at a welcome reception to be held at Wicomico Middle School on August 10th.
If your business would like to donate an item, or if you have any questions, please contact Sigrid Velez-Nelson via email sigridvelez@yahoo.com, TEXT 410-901-7721, or call the Chamber at 410-749-0144.
Thank You to These Businesses for Their Support!
Affordable Business Systems, Alarm Engineering, Avery Hall Insurance Group, The Bank of Delmarva, BBSI Salisbury, Choptank Electric Cooperative, Community Foundation of the Eastern Shore, Delmarva Shorebirds , Junior Achievement of The Eastern Shore, Lower Shore Enterprises, Inc., M&T Bank, Minuteman Press Salisbury, Perdue Farms, Planet Fitness, Playa Bowls Salisbury, Salisbury University, TidalHealth, VP Shoes – Vernon Powell, The Ward Museum of Wildfowl Art, Salisbury University, Wicomico Youth & Civic Center, Wor-Wic Community College