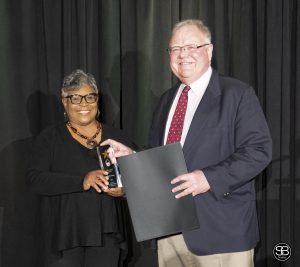 The 2022 Salisbury Area Chamber of Commerce Annual Awards Luncheon was a celebration of the individual, business, and organizational achievements of 2022.
An audience of nearly two hundred attended the awards ceremony on Thursday, October 27, 2022, at the Wicomico Civic Center in the Normandy Arena.
SACC President/CEO Bill Chambers welcomed guests, "The Annual Awards Luncheon is by far the most gratifying Chamber event we host every year. It is that day when we honor the contributions and successes of individuals, companies, and organizations across Delmarva."
The event kicked off with a delicious buffet lunch, followed by Cynthia Miller, Maryland Office of Tourism, and Kristen Goller, Wicomico County Tourism, presenting the Wicomico Parks and Tourism Awards. The Hospitality Award was presented to Burt Cashman, Parkside Wrestling; the Business of the Year Award was presented to Ross Marvel, Playa Bowls; and the Partner of the Year Award was presented to Tri-County Council for the Lower Eastern Shore.
Bill Dowell, USSSA East, was presented with the Wicomico County's Betty K. Gardner Award Tourism Person of the Year Award.
Following the Tourism Awards, Zach Evans, Master of Ceremonies and Community Relations Manager at Mountaire Farms, kicked off the SACC portion of the event.
The first award was for the SACC Member Volunteer of the Year. This award was presented by Chris Hall of TidalHealth and was presented to Veronica James, ERA Martin Associates. Veronica has served as a Chamber Ambassador for two years, a member of the Annual Golf Classic Committee, a committee member on the Annual Ladies and Mixed-Team Golf Challenge, a sponsor for both Golf Events and the Southern Delmarva Economic Forecast and has assisted the Chamber on a variety of other projects. Veronica is the Past President of the Eastern Shore Running Club, former coach for the "Girls On The Run", Road Runners Club of America Certified Running Coach, and a Platinum Real Estate Sales Professional serving the lower shore for ERA Martin Associates.
The SACC Ambassador of the Year Award was presented to Michelle Low of Comcast Business. Michelle has been an ambassador since 2018, consistently attending Chamber Ribbon Cutting and Business After Hours Events, where she volunteers working the event and welcoming members attending these events. She also welcomes new Chamber members throughout the year in her role as a Chamber Ambassador. In her professional career, Michelle has been in the telecommunications industry for 28 years and just recently celebrated her 11th anniversary working for Comcast Business.  The award was presented by Sandy Fitzgerald-Angello, Pohanka of Salisbury.
Jim Fuss of BBSI presented the Small Business of the Year Award to Atlantic Portable X-Ray. Atlantic Portable X-Ray is a locally and family-owned business serving the Eastern Shore of Maryland and Delaware. Atlantic Portable X-Ray provides same-day portable x-ray services to those in our community who prefer or require bedside healthcare. This eliminates the need to transport patients, making it a safer and more convenient option for loved ones. Atlantic Portable X-Ray is from Ocean City, Maryland, and they are proud to bring this much-needed service to the community.
The Medium Business of the Year Award was presented by Sue Dalton of Effectv to Real HVAC Services. Real HVAC Services has been helping homeowners and businesses since 2007. Locally owned and operated by Shawn Harrison, his son Will and daughter-in-law Kayla, they are known for treating their customers with respect and professionalism while meeting their needs both quickly and on budget. The company has grown through the years, now with a remarkable workshop that has its own state-of-the-art plasma cutter and an on-site employee training facility.
The Large Business of the Year Award was presented by Tony Nichols, President of the Salisbury Wicomico Economic Development Corporation, to NASA Wallops Flight Facility. NASA's Wallops Flight Facility provides agile, low-cost flight and launch range services to meet government and commercial sector needs for accessing flight regimes worldwide from the earth's surface to the Moon and beyond. Wallops' flight assets ranging from research aircraft, unmanned aerial systems, and high-altitude balloons to suborbital and orbital rockets, provide a full range of capabilities while operational launch range and airfield capabilities meet ongoing and emerging needs in the science, Aerospace, defense, and commercial industries. Rocket Lab, which is poised to launch its Electron rocket from Wallops this year, has also broken ground on the Neutron Production Complex, which includes a launch pad, rocket production, assembly, and integration facility located just outside the NASA gate to Wallops Island. Wallops was founded in 1943 as a Naval Air Station. The first launch from Wallops occurred on June 27, 1945. Overall, since its beginnings as a facility for conducting high-speed research on aerodynamic designs, Wallops has launched more than 16,000 rockets carrying aircraft models, space and earth science experiments, technology development payloads, and satellites.
The SACC Business Professional of the Year award was presented to Steve McGee. This award was sponsored by the Franklin Perdue School of Business and presented by Dr. Christy Weer.
Steve is currently the President of Chesapeake Shipbuilding and Vice President of Engineering for American Cruise Lines and holds both of those positions concurrently. Steve graduated from the United States Coast Guard Academy with a bachelor's degree in Naval Architecture & Marine Engineering. Prior to joining Chesapeake Shipbuilding Corp as the Director of Design and Engineering 7 years ago, he ran his own naval architecture consulting company and was employed by a major international salvage company recovering shipwrecks in the US, Mexico, and Chile. Steve is a Registered Engineer and has two master's degrees from the University of Michigan, one in Naval Architecture & Marine Engineering and the other in Aerospace Engineering. He and his wife Jennifer have a combined 6 children spread around the country and reside on a farm along the banks of the Pocomoke River in Snow Hill.
The Environmental Service Award was presented to Ørsted by Jared Collier of TrashForce.
Ørsted is the U.S. leader in offshore wind and developer of Skipjack Wind, a 966-megawatt offshore wind project off the Maryland coast. Skipjack Wind will power nearly 300,000 homes in our region with clean energy and enable $735 million in economic investments in Maryland. Ørsted earned recognition as the world's most sustainable energy company by Corporate Knights, including for 2022. In Maryland, Ørsted is helping the state achieve 50 percent renewable energy by 2030 while creating value for communities, including Salisbury. Ørsted will construct Maryland's first zero-emissions operations and maintenance facility in West Ocean City. Ørsted plans to utilize zero-emission crew transfer vessels to transport crews from the facility to Skipjack Wind. The facility will create approximately 50 new permanent jobs and house wind turbine maintenance technicians, engineers, operations personnel, and other key roles.
The Agriculture Ambassador of the Year Award was presented to Robinson & Harrison Poultry Company, Inc. by Kevin Dennis of Perdue Farms.
Founded in 1980 by Tom Robinson, Robinson & Harrison Poultry Company has been in business for 42 years and a SACC member since 1983. They are an innovative trading company with one of the largest networks within both the poultry and meat industries. Their customers are wholesalers, retailers, and further processors. Robinson & Harrison has offices in five states and Mexico, and their sales span all over the US, Mexico, and Canada. Their company is large enough to purchase products from every poultry and meat processor in the nation, yet they are small enough to give personal, one-on-one services to each customer.
The Non-Profit Organization of the Year Award was presented by John Petito of Delmarva Power to the Life Crisis Center, Inc.  The Life Crisis Center, Inc. has its roots in Ocean City, where it began in 1976 as the Rape Crisis Center. In 1978 the Rape Crisis Center moved its headquarters to Peninsula Regional Medical Center in Salisbury and changed its name to the Life Crisis Center. At the same time, LCC incorporated a general hotline to provide an extension of services to better meet the needs of residents of the Lower Eastern Shore. The agency Safe Home opened in 1998, to provide shelter, intensive case management, and access to supportive services to victims of domestic violence and their children on the Lower Shore. The 46-year-old mission of the Life Crisis Center is to improve the quality of life in our community by promoting healing for individuals and families through crisis intervention and violence prevention services.
The Chamber Hall of Fame Award is not an annual award. The award acknowledges an individual that has exhibited a demonstrated history of career achievement, a sustained commitment to the advancement of our region through their unselfish leadership, a commitment to making a difference, and unparalleled professionalism among their peers in the community!
The 2022 Hall of Fame Award was presented to Martin Neat by Sharon Morris of First Shore Federal Savings & Loan.
Morris stated, "Marty Neat truly epitomizes what it means to be a servant. His contributions and work for so many organizations across our region. Throughout his career, he was the consummate giver, there to always help and give without recognition. His First Shore Federal family, many in the audience today, have been blessed by Marty. We are honored to be a part of his induction into the SACC Hall of Fame."
Citations were presented to the award winners on behalf of Governor Larry Hogan, Senators Adelaide Eckardt and Mary Beth Carozza, and Delegate Carl Anderton.
Congratulations to all this year's awards winners and a special thank you to award sponsors, The SACC Patron Sponsors, photographer Steven Bergman of SB Studios, the Wicomico Youth & Civic Center and Encore Catering, and all those who attended to celebrate these outstanding individuals, businesses, and organizations!