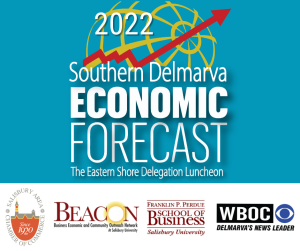 The 34th Annual Southern Delmarva Economic Forecast will be held at 7:30 AM on Friday, December 3, 2021, at Salisbury University, in the Guerrieri Academic Commons. The Eastern Shore Delegation Luncheon will follow at 12:30 PM.
Presented by The Salisbury Area Chamber of Commerce, BEACON at Salisbury University, and the Franklin P. Perdue School of Business, the event is an unparalleled opportunity to hear first-hand what leading regional economists and business leaders believe to be the biggest achievements and challenges ahead.
The 2022 Economic Forecast curriculum includes regional economists and business leaders who will analyze the challenges facing the regional, national, and global economies.
Economic Development Directors
What's Next! The Southern Delmarva Economy
– Dave Ryan, Wicomico County
– Melanie Pursel, Worcester County
– Susan Banks, Dorchester County
– Daniel Thompson, Somerset County
– William Pfaff, Sussex County, Delaware
– Rich Morrison, Accomack County, Virginia
2022 Economic Forecast Speakers
Emerging Delmarva Industries: Timber, Wellness, Broadband and Wind
– Steve Leonard, President & CEO, TidalHealth
– Matt Drew, Onshore Infrastructure Construction Manager, Ørsted
– Beth Hill, Executive Director, Maryland Forest Association
– Neil Stegman, Operations Manager, Bloosurf

On the Horizon: Future of Aviation and Space
– David Pierce, Director, NASA Wallops Island
– Bob Bryant, Airport Manager, Delaware Coastal Airport

Recovery of the Restaurant and Tourism Industries
– Marshall Weston, President, Restaurant Association of Maryland
– Tom Perlozzo, Director, Ocean City Tourism and Business Development

The State of The Building Trades
– Ron Morgan, President, Becker Morgan Group
– Dwight Miller, President, Gillis Gilkerson
2022 Maryland General Assembly Session Preview
Following the Forecast, the Lower Shore Legislative Delegation will be on hand to answer questions on the upcoming 2022 General Assembly Session and the business legislation that is set to become law. The panel has a moderator overseeing the Q & A.
– Senator Mary Beth Carozza
– Senator Addie Eckhardt
– Speaker Pro Tem Delegate Sheree Sample-Hughes
– Delegate Christopher Adams
– Delegate Johnny Mautz
– Delegate Carl Anderton
– Delegate Wayne Hartman
– Delegate Charles Otto
Full event registration is $75 for members and $100 for future members.
The 2022 Southern Delmarva Economic Forecast is presented by:
Franklin P. Perdue School of Business

Media Sponsor

CEO Level Sponsors
The Greater Ocean City Chamber of Commerce

Chairman Level Sponsors
University of Maryland Eastern Shore

Board Level Sponsors
Associated Builders & Contractors Chesapeake Shores
Coastal Association of REALTORS®
Greg Reddell State Farm Insurance Agency
Peninsula Roofing Company, Inc.
Maryland Small Business Development Center Eastern Region
SVN | Miller Commercial Real Estate

Supporter Level Sponsors
Salisbury Wicomico Economic Development
Tim Sherman Consultant, Small Business Development Center