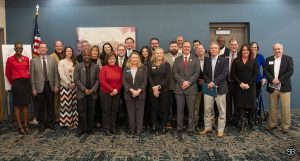 The Salisbury Area Chamber of Commerce conducted the Annual Board of Directors and Voting Council Installation Luncheon on Wednesday, January 17th at the Hampton Inn Hotel in Salisbury.
The Honorable James "Bo" McAllister, Clerk of the Court Wicomico County, presided over the swearing in of the 2023 Voting Council and the new members of the Chamber's Board of Directors, set to begin a three-year term. Also sworn in was the new Board Chair, Greg Reddell of State Farm Insurance, set to begin a one-year term of office.
New Voting Council members sworn in at the ceremony included Sandy Fitzgerald-Angello, Pohanka Automotive Group of Salisbury; Ron Boltz, Alarm Engineering; Jay Bosley, D3 Corp.; and Veronica James, ERA Martin Associates.
New board members sworn in included Brad Mogan, Mogan's Oyster House; Maggie Vincent, PKS & Company, PA; Colin Zimmerman, Coastal Association of REALTORS®.
SACC President/CEO Bill Chambers thanked outgoing Chairman of the Board Jeff Merritt, Minuteman Press and Operation We Care, and Board member Mike Kleger, PKS & Company, P.A.
In his acceptance remarks, new Board Chair Greg Reddell commented, "The business community on the shore will continue to be heard on important issues and will function as one in protecting all businesses as we move forward."
Board Chair Reddell will lead a nineteen-member Board of Directors and a thirty-five-member Voting and At-Large Council.
The luncheon keynote speaker was Wicomico County Council President John Cannon.
Council President Cannon thanked all in attendance for their commitment to their businesses and the community. "If you all left Wicomico County, we would live in a ghost town, devoid of what makes a community thrive, businesses and the jobs they provide."
Cannon also highlighted the tremendous strides the County has made including multiple new school facilities, investing in Pre-K education and investments in tourism and infrastructure.
He added, "The Council realizes that investment in initiatives that address the quality of life in our County are all investments in economic development and the growth it brings."
He concluded by saying, "A comprehensive water and sewer plan is not a thirty- or forty-year process, it is a here and now project. Our experts tell us this needs investment attention in the next five years, water and sewer isn't a discussion item anymore."
Lunch was catered by The Dinner Express. Photography provided by SB Studios.
The Board of Directors and Full Council meeting for new and established members is scheduled for January 26th in Salisbury.
About the Salisbury Area Chamber of Commerce
With a strategic location along the east coast, the Salisbury Area Chamber of Commerce (SACC) is at the geographic center of the Delmarva Peninsula and the regional hub for economic development, art, education, transportation, business, agriculture, government, and health care for Maryland's Eastern Shore.
The SACC is an organization of community-focused leaders dedicated to promoting the growth of these sectors and thereby the area.
The overarching goal of the Chamber is to provide real value to our members and the business community. Businesses that take part in SACC tend to become more motivated and knowledgeable in their fields, benefiting the area.
Members have access to a multitude of events including educational workshops, business seminars, and informative luncheons featuring speakers ranging from government dignitaries to entrepreneurs to experts in the economic sphere.
The Chamber delivers the substantial benefit of being present and visible through networking, as it assists in building connections throughout our community.
The SACC is dedicated to strengthening, broadening, and fortifying members' business strategies, relationships, and commerce through our three pillars: Education, Connection, and Advocacy.
Through these ideals, not only will the scenic, industrious Wicomico County realize greater success, but the entire Eastern Shore and Maryland will as well.
The SACC represents nearly seven hundred businesses and organizations from ten Maryland counties and four states.
Interested in becoming a member? Contact Sigrid Velez-Nelson, Director of Membership, at svelez@salisburyarea.com or call 410-749-0144, x 103.