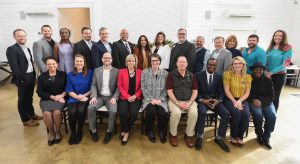 The 2020 Salisbury Area Chamber of Commerce (SACC) held its 2020 Board and Voting Council Installation Breakfast on Wednesday, January 29, at the beautiful Wildflower Estate Farm in Mardela Springs, Maryland.
Before a packed audience of Chamber members and local officials, Clerk of the Circuit Court, the Honorable James "Bo "McAllister, swore in new Board and Voting Council members, formalizing their oath of office.
Craig Jahelka, President, Draper Media, and Alexis Roskovich of Becker Morgan Group, Inc. were sworn in as new Chamber Board Members serving a three-year term beginning in 2020.
Additionally, five new Voting Council Members were sworn in. They included Dr. Christy Weer of Salisbury University, Ryan Bass of Woodforest Bank, Hall Chaney of Chaney Enterprises, Dr. Heidi Anderson from the University of Maryland Eastern Shore, and David Daybreak of Combined Insurance.
Board Chair Karri Todd was sworn to serve her second one-year term as the SACC Board of Directors Chairwoman. Todd thanked the Chamber Board of Directors for their support of the Chamber, adding, "This year, as the one hundredth year of our Chamber, we will not only look back on this organization but also focus on initiatives leading us into the next one hundred years."
The SACC added the Economic Development Directors from Worcester, Somerset and Dorchester Counties to the Ex-Officio Council. Danny Thompson, Somerset; Susan Banks, Dorchester; and Kathryn Gordon, Worcester were all welcomed to the SACC by President/CEO Bill Chambers.
Chambers announced upcoming events scheduled to celebrate the 100th Anniversary of the Chamber, including a special 100th Anniversary Annual Awards Banquet at the Wicomico Youth and Civic Center with Master of Ceremonies Zach Parnes, Sports Director, WBOC.
The signature 100th anniversary event will be Salisbury Area Chamber of Commerce Centennial Cruise, a remarkable cruise party aboard the 100-foot yacht, Catherine Marie. The celebration will take place on September 19, 2020, at the Hyatt Regency Chesapeake Bay and Sailwinds Park in Cambridge, MD.
On October 7, 2020, the Salisbury Area Chamber of Commerce, Perdue Farms, and Rotary will host a special joint luncheon at the Wicomico Youth and Civic Center to celebrate all three entities' 100th anniversaries.
There will also be an Open House & Ribbon Cutting at the new Chamber office at 200 East Church Street in Downtown Salisbury. Date to be announced.
Sponsorship and ticket information on these historical events will be announced in Spring 2020. Visit www.salisburyarea.com for more information.