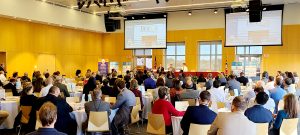 The Salisbury Area Chamber of Commerce hosted its 34th Annual Southern Delmarva Economic Forecast on December 3rd at Salisbury University.
Special thanks to the Presenting Sponsors BEACON at Salisbury University, The Franklin P. Perdue School of Business, and to WBOC, a Draper Media station, the media sponsor of this year's Forecast.
Dean of the Frankin P. Perdue School of Business Dr. Christy Weer kicked the day off with a welcome from Salisbury University to the more than two hundred in attendance.
The day began with presentations from five Lower Shore Economic Development Directors, each outlining the state of the economy in their respective jurisdictions and some new projects underway as well.
Emerging Industries took center stage next with the CEO of TidalHealth Steve Leonard, Matt Drew with Orsted and Neil Stegman from Bloosurf, updating the audience on Broadband. Steve Leonard also undated attendees on the new Covid variant and in the spirit of wellness, urged everyone to get the booster shot.
Matt Drew highlighted the huge investment that Orsted is making in Maryland with the impending offshore installation of wind turbines.
NASA Wallops Director David Pierce and Delaware Coastal airport Manager Bob Bryant engaged the audience with updates on each of their facilities. David Pierce offers up to date information on the Antares resupply launches from NASA Wallops.
Bob Bryant outlined the significant investments being made at Coastal Delaware Airport with new hangers and runway improvements among them.
Restaurant Association of Maryland President Marshall Weston and Tom Perlozzo, Director of the Ocean City Tourism and Business Development office both spoke about the state of the restaurant and hospitality industries. Perlozzo noting that the resort town is poised to create a new brand with the intention to make Ocean City a true year-round destination resort. Weston commented that rising restaurant costs are slowing the recovery of this industry and combine that with worker shortages and the industry is generally struggling.
The morning was rounded out by presentations of the State of the Building Trades. This panel featured Ron Morgan, President for Becker Morgan Group, Dwight Miller, President of Gillis Gilkerson and Rebecca Snyder, Assistant Branch Manager for Beacon Supply. All three bemoaned the supply chain issues, rising material costs and the labor shortages. Miller added that bidding of all construction projects has become a greater challenge dues to these factors.
The afternoon panel was a look ahead at the 2022 Maryland General Assembly Session with members of the Lower Shore Delegation. All agreed that with new Committee leadership in the General Assembly, a host of anti-business Bills on the docket, and an election year gearing up, this Session could be a long one. In addition, a Special Session of the Maryland General Assembly will commence on December 6th to solely take up the Redistricting Maps, a legislative process that promises to be a battle.
The SACC wants to also recognize these sponsors for this year's Southern Delmarva Economic Forecast:
Global Play Network, The Greater Ocean City Chamber of Commerce, Orsted, Pohanka of Salisbury, Avery Hall, D3, effectv, Delmarva Power, M&T Bank, Perdue Farms, TidalHealth, SBY Airport, SBTS Group, The Voice Radio Network, The University of Maryland Eastern Shore, Alarm Engineering, ABC Chesapeake Shores, BBSI, Chesapeake Utilities, Chaney Enterprises, Coastal Association of Realtors, Mountaire Farms, Hebron Savings Bank, Delmarva Veteran Builders, Peninsula Roofing Company, Inc.. PKS & Company, P.A., W.R. McCain & Associates, Provident State Bank, SBDC of Maryland, State Farm, SVN Miller Commercial Real Estate, State Farm – Greg Reddell Insurance Agency, Bancroft Construction, Davis, Bowen & Friedel, Inc., The Bank of Delmarva, Gillis Gilkerson, Minuteman Press, NAI Coastal and Salisbury Wicomico Economic Development, and Tim Sherman – Small Business Development Center.