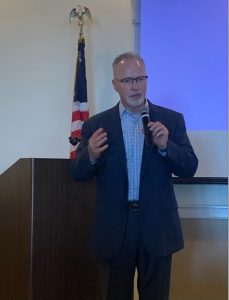 The Salisbury Area Chamber of Commerce welcomed more than forty attendees to the Dunes Manor Hotel in Ocean City Maryland for the June General Membership Luncheon. Guests enjoyed a delicious lunch including shrimp scampi, stuffed chicken breasts, salads, and more, while soaking in the gorgeous views overlooking the ocean!
The luncheon featured speaker was Eric Morgan, the President/CEO of Piedmont Airlines. Piedmont Airlines is headquartered in Salisbury and is an affiliate carrier for American Airlines. The company employs over 9,000, flies a fleet of Embraer 145 regional jets, and serves 80 airports across the United States.
Mr. Morgan outlined the challenges that the commercial aviation industry faced over the past year and a half due to the pandemic. He commented, "Piedmont, unlike many companies, retained our workforce throughout but the hits to our business are still being felt systemwide. Business travel, which is the industry's bread and butter is only at 15% of pre-pandemic levels."
Morgan continued by observing that until that sector of traveler returns if they do, the airline industry will be forced to make changes to survive. Piedmonts' services at the SBY airport are closer to pre-pandemic levels as Morgan noted, "Our Philadelphia hub is now close to 90% of where we were, leisure travel has returned."
Morgan noted the good working relationship Piedmont has enjoyed with SBY airport officials. "Runway expansion and the removal of obstacles will greatly enhance our Charlotte service, and we are hopeful that work in that regard will move forward."
In closing, Morgan lamented the industry's need for airline mechanics and new pilots. Forging a partnership with a lower shore institution of higher education is a priority for American airlines and Piedmont. Asking the audience to help forge those partnerships will get us closer to filling in these critical skilled worker shortages in the future.
For more information about Piedmont Airlines, visit https://piedmont-airlines.com.