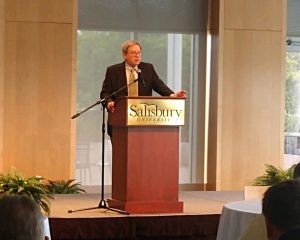 The SACC hosted a special luncheon on June 3rd at Salisbury University featuring Mr. Walter Olson, Governor Hogan's Statewide Redistricting Commission Co-Chair.
In attendance were business leaders from the lower shore along with several members of the Maryland House of Delegates and County Council members.
Mr. Olson was one of nine members appointed by Governor Hogan, by virtue of the Governor's Executive Order, to the Commission to look at redrawing election districts in Maryland.
As the Commission Co-Chair, Mr. Olson will lead the Commission on eight separate regional meetings to get citizen input on this process. The latest 2020 census data will be utilized as an important piece of the process. While the eastern shore as a whole has not kept pace with the rest of Maryland in population growth, polling results have shown that nearly 70% of Democrats and Independents want a better system to redraw election districts. Olson commented, "The splitting of municipalities into separate election districts must be remedied. Party affiliation by population will not be a consideration nor will any past election results."
The first regional citizen input session will be offered to eastern shore residents and all sessions will be on Zoom. Updated formation on public meetings and the work of the Commission can be found on the State of Maryland website, keywords "Maryland Citizens Redistricting Commission."