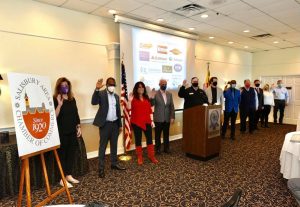 SALISBURY, MD – On Friday, January 22, 2021, the Salisbury Area Chamber of Commerce celebrated the outgoing and incoming Chamber Board of Directors at the annual Installation Luncheon. The luncheon was held at the oceanfront Dunes Manor Hotel in Ocean City, Maryland. Chamber President/CEO Bill Chambers presented appreciation gift baskets to outgoing Board members William Ferguson and Greg Reddell. Both Bill and Greg have served on the Chamber Board for the past six years.
Outgoing Board Chair Karri Todd was recognized with a framed print of Downtown Salisbury at Main and Division Streets. Karri has served as Board Chair for the past two years. In her comments to the audience of regional business leaders, she noted that one primary accomplishment during her term was the sale of the Chamber building on Main Street. She commented, "I'm the person that sold the Chamber building, which enabled us to create a true rainy-day fund to protect this 100-year-old institution."
Wicomico County Clerk of the Courts James "Bo" McAllister officiated the swearing-in of new Board members Ryan Bass (Woodforest National Bank) and Zach Evans (Mountaire Farms). Clerk of the Court McAllister also administered the oath of office to the 2021 Chamber Voting Council Members which included; Sandy Fitzgerald Angello (Pohanka Automotive Group), Dr. Christy Weer (Perdue School of Business at Salisbury University ), Habacuc Petion (Restore, Inc.), David Daybreak (Chubb Insurance), Ron Boltz (Alarm Engineering), Catherine Curran (CTG Media and A+ Clean Out & Junk Removal), Randy Day (Perdue Farms), Jay Bosley (D3 Corp.), and Greg Reddell (State Farm Insurance).
Following the introduction of the board, Jeff Merritt (Minuteman Press) was sworn in as the 2021 Salisbury Area Chamber of Commerce Board of Directors Chair. In his acceptance remarks, Jeff reflected on the history and significance of the SACC to the region. "The Chamber will continue to be a strong advocate for our regional businesses and be their voice in Annapolis and Beyond."
The Installation Luncheon featured a served socially distanced lunch and attendees were required to wear masks unless eating. The Board and Council then adjourned to the oceanfront deck at the Dunes Manor Hotel for a group photo.
Photos courtesy of Todd Dudek.