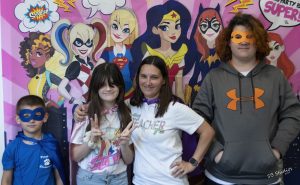 The Salisbury Area Chamber of Commerce's June 9th Business After Hours was hosted by Big Brothers Big Sisters of the Eastern Shore (BBBSES.)
Guests were welcomed by Executive Director Jessica Mimms, along with members of the Board of Directors and her staff.  
BBBSES provides one-to-one youth development programs to children whose futures may be impacted due to family poverty, neighborhood crime, or child abuse. They pair children with positive adult volunteer role models with the right mix of patience and commitment to help them grow into confident, competent, and caring young adults. A group of mentors shared their experiences in working with the children. They serve the counties of Dorchester, Wicomico, Worcester, and Somerset Counties.
Mimms shared that "Mentoring is such an important part of what we do in the community, and BBBS has been known for perfecting mentorship for almost 120 years. Through the pandemic, our case management found that our families needed not only mentoring but other resources such as sanitation and personal protection items. So, we do a lot more than mentoring."
"We work with children from ages 6-18, and we ask our mentors to be committed for at least one year, and have mentors that have been with us for up to 24 years. If you have any questions about mentorship or want to get your business involved in mentoring, please reach out to our board member, our staff, or myself."
For more information about Big Brothers Brig Sister of the Eastern Shore visit shorebiglittle.org.
Photos by Steven Bergman, Steven Bergam Studios.
How the program works, is simple:
STEP 1: Qualifying
Qualify all prospective Littles for need and capacity for match success.
STEP 2: Recruitment
Recruit new volunteers through referral, marketing, social media, corporate partners, and events.
STEP 3: Interviewing
Interview all prospective Bigs and Littles to get to know their personality and interests. We also thoroughly
background check all volunteers via Live Scan, DMV, and the FBI.
STEP 4: Matching
Match a Big to a Little based upon multiple variables with the goal of creating a long-term friendship.
STEP 5: Monitor & Support
We support Bigs and Littles as they face the multitudes of challenges life creates and monitor the matches for
safety and longevity.
During the Business After Hours guests enjoyed a wonderful display of food prepared by chamber member The Deli at Pecan Square, as well as refreshing adult beverages. Door prizes included a gift card from member Island Creamery and bottles of Gentleman's Whiskey.
The event also had the support of chamber member Steven Bergman Studios and the Community Foundation of
the Eastern Shore.
The winner of the 50/50 raffle, which benefits the SACC Foundation's scholarship fund, was Terri Mueller, who
graciously donated the money back to the fund.  
For more information on Big Brothers Big Sisters of the Eastern Shore, please contact:
Jessica Mimms at 410-543-2447, www.shorebiglittle.org, or visiting their office at 200 W Main Street in downtown Salisbury.