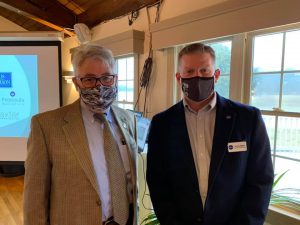 The Salisbury Area Chamber of Commerce recently hosted its socially distanced March General Membership Luncheon on March 18, 2021, at Green Hill Country Club in Quantico, MD.
The event featured David Pierce, Director of NASA's Wallops Flight Facility. Fifty attendees braved the rainy weather and enjoyed a delicious served luncheon overlooking the Wicomico River.
Director Pierce provided a comprehensive overview of the myriad of activities taking place on the base. The base employs nearly three hundred civil servants, more than eight hundred NASA contractors and six hundred tenant personnel from the United States Navy, NOAA, Virginia Space, Rocket Lab, and the United States Coast Guard.
With 6092 employees, an annual budget of $335 million, and an economic impact of $1.37 billion(!), NASA/Wallops is a unique and impressive Delmarva asset.
Director Pierce shared Wallops five-year strategy including the development of new and improved suborbital/orbital capabilities. The facility will also be promoting more government-private sector partnerships, enabling new lines of access to space using emerging commercial nano-launch capabilities and supporting increased orbital lunch models including monthly launches to low-Earth orbital constellations.
Director Pierce added, "NASA Wallops continues to grow a diverse workforce in support of "New Space" Commercial Space markets for NASA and National Defense."
Community outreach to integrate more STEM opportunities for shore educational assets are a part of the NASA Wallops core mission. Programs including Virginia Space Coast Scholars, Community College Faculty Workshops, NANA Community College aerospace Scholars, internships and Education Launch Forums are just a small sampling of this initiative.
The next Antares space station resupply mission is slated for July 1st, Director Pierce commented that "Chincoteague should be thrilled by the date and crowds that gather to watch the launch."
The SACC April General Membership Luncheon will be held on April 15, 2021 at 11:30 AM at Dove Pointe in Salisbury, Maryland.
The featured speaker will be Randy Day, CEO, Perdue Farms, who will discuss the current state of agriculture and how it affects the poultry industry.
This will be a socially distanced event and masks are required while not seated. Tickets are $25 for members, $35 for future members. Register at www.salisburyarea.com.