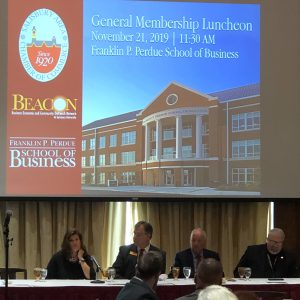 The Salisbury Area Chamber of Commerce held its November General Membership Luncheon on November 21, 2019, at Salisbury University. The luncheon, sponsored by BEACON at Salisbury University, featured a panel discussion on how area businesses can partner with the Perdue School of Business at Salisbury University for Applied Research, Consulting, Knowledge and Technology Transfer, Entrepreneurship, Continuing Education, and Internships.
The panel included Dr. Christy Weer, Dean of the Franklin P. Perdue School of Business; Dr. Memo Diriker, Director of BEACON at Salisbury University; John Hickman, Regional Director, Eastern Region Maryland Small Business Development Center; and William Burke, Director of Salisbury University Shore Hatchery and Executive Director of Economic Development. 
Salisbury-Wicomico Economic Development Executive Director Dave Ryan moderated the discussion.
All panelists detailed various success stories with students' businesses and organizations. Panelists were asked how they measure success within their scope of influence. Dr. Diriker shared, "We place BEACONites, (our students) in internships. Success is when an employer calls me to inform me that the student has been offered a career position. That is a measure of success for our curriculum here at BEACON." Dr. Diriker went on to say, "The next call I typically receive is that same employer asking to have another BEACONite placed at that firm."
There was time for audience interaction with the panel, and questions ranged from help with business plans, future University initiatives, and partnerships, and whether BEACON studies can be accessed online for review. 
Join the Chamber on January 16, 2020 at 11:30 AM for the next General Membership Luncheon featuring Ashley Duckman, Vice President of Government Affairs for the Maryland Chamber of Commerce.
Ms. Duckman will outline the upcoming 2020 General Assembly session and pinpoint legislation that could impact Maryland businesses.
Tickets are limited, be sure to make your reservations today by calling 410-749-1044 or visit www.salisburyarea.com.