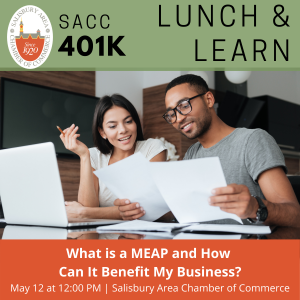 The Salisbury Area Chamber of Commerce is pleased to announce a new member benefit program – The Multiple Employer Aggregation Program (MEAP). The MEAP is a 401(k) qualified retirement plan offered exclusively for Chamber members. It is represented by Steve Smith of Pilot Financial and Jill Hall of Landmark Insurance and Financial Group.
MEAPS are gaining a lot of traction across the country since recent regulations made them more attractive to local Chambers and Associations. Participation in a MEAP will generally result in lower fees and expenses, reduced fiduciary liability, and decreased paperwork and administration.
While SACC is endorsing the MEAP, it is the participating member who will define the plan design. The Recordkeeping, Fiduciary Services, and Administration are handled by three powerhouses in the industry, namely, Lincoln Financial Group, Morningstar, and The Retirement Advantage.
The Chamber's MEAP should be attractive to existing plan sponsors as well as those just getting started looking for a qualified plan.
To learn more about the MEAP program, grab a brown bag lunch and join Steve Smith and Jill Hall on May 12, 2021  at 12:00 noon for a Lunch & Learn introductory presentation.
This is a socially distanced event and masks must be worn except when seated.  Due to COVID restrictions, space is limited to 10 attendees. Please register in advance at www.salisburyarea.com, as we cannot accommodate walk-ins.