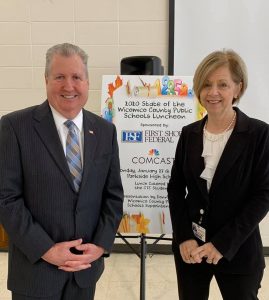 On Monday, January 27,  2020, the Salisbury Area Chamber of Commerce presented the annual State of the Wicomico County Public Schools at Parkside High School in Salisbury, Maryland. The event, sponsored by First Shore Federal Savings and Loan Association and Comcast, featured Wicomico Public Schools Superintendent, Dr. Donna Hanlin, speaking to more than one hundred forty business, organizational and community leaders.
The attendees enjoyed a delicious luncheon prepared by the Parkside High School CTE Culinary students and a rendition of "A Million Dreams" by choral students from various high schools.
Dr. Hanlin's remarks noted progress made during the 2018-2019 school year with regard to Kindergarten readiness, graduation rates and recruiting and retaining quality teachers.  Dr. Hanlin also outlined a collaborative plan to continue school safety efforts. She addressed her Administration's efforts to formulate the school district's FY 2021 budget, including how new State investment from the Maryland General Assembly related to Kirwan Commission recommendations  would impact the FY 2021 budget.
Throughout her presentation, Dr. Hanlin extended gratitude for the ongoing commitment of the staff, families, students and community partners that support Wicomico County Public Schools. "We are not just imagining the future. We are embracing the possibilities and we are achieving higher levels of success."