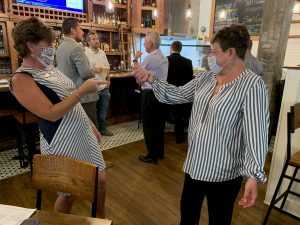 By Cathy Diekmann
Salisbury Area Chamber of Commerce members gathered for their first in-person event since the COVID-19 pandemic changed many things, including how people interact in public.  The event took place during Happy Hour on June 25, 2020, at Mogan's Oyster House.
To abide by COVID-19 safety recommendations, guests were encouraged to wear face masks, use hand sanitizer thoughtfully placed at each table, and maintain social distance from each other.  Anyone who is navigating this "new normal" knows it takes some practice to make these and other safety recommendations a habit.
The staff at Mogan's, however, has these practices down pat. "We take the safety of our customers and staff very seriously," affirmed Managing Partner, Brad Mogan. The masked and gloved staff cheerfully waited on guests from a safe distance and were regularly sanitizing tables, door handles, and other high touch surfaces.
The evening provided a much-welcomed get-away from the humdrum of staying at home. Mogan's unique "pub meets modern restaurant" features a custom oak bar, a menu inspired by local fishermen and farmers, and an exceptional raw bar. The open kitchen allows guests to see Chef David Wells and his culinary team in action.
The evening specials gave a nod to Mogan's love of family.  "The Fourth," is a big, bourbon cocktail named for owner Dennis John Mogan IV ("Denny"). Mama Mogan's Crab Dip is a family recipe made with fresh, lump crab and served with buttered toast points.
Rather than address SACC members during a formal program, Brad Mogan visited each table personally so he could get to know his guests and vice versa. His restaurant experience started as a busboy and grew to include multiple James Beard Award programs, Sommelier, restaurant manager, and owner. He recently relocated to Salisbury to join his brother Denny Mogan in this venture.
In the wake of COVID-19, Mogan's has pivoted to meet their guests where they are – literally. They now offer corporate catering that includes on-site office lunches, Happy Hour, and customized events as well as menu-order items for curbside pick-up or home delivery within a five-mile radius.
"We strive to meet the needs of our customers and local businesses because these people are our friends. They are our family," Mogan explained.
Check out the SACC events calendar for upcoming opportunities, both in-person and virtual, at www.salisburyarea.com.