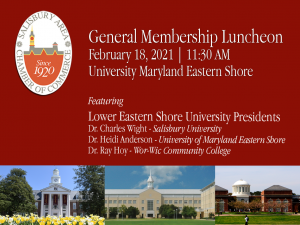 The Salisbury Area Chamber of Commerce will host the February 18, 2021 General Membership Luncheon at the University of Maryland Eastern Shore in Princess Anne Maryland.  The Henson Center will be the site of the luncheon which begins at 11:30AM.
This socially distanced luncheon will feature a panel consisting of all three shore University Presidents representing Salisbury University (Dr. Charles Wight), WorWic College (Dr. Ray Hoy), and University of Maryland Eastern Shore (Dr. Heidi Anderson). They will be discussing the challenges each institution has faced with the Covid-19 pandemic, what lies ahead for the fall 2021 semester and what opportunities have arisen during the crisis.
Advanced reservations and masks are required. Tickets are $25 for members and $35 for future members and can be reserved by going to www.salisburyarea.com.