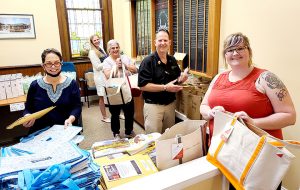 SALISBURY, MD – August 2021 – After having to cancel the 2020 campaign due to COVID restrictions, the Salisbury Area Chamber of Commerce and Pohanka Automotive Group of Salisbury are happy to once again provide welcome tote bags to each new teacher in Wicomico County public schools and SACC member private schools.
"The SACC, Pohanka Automotive of Salisbury, and the Wicomico business community are proud to welcome the new teachers to our community by presenting each of them with a gift bag full of useful items, gift certificates, and local business information. It is just a small token of our thanks to them for choosing teaching as their profession and welcoming all of them to our community," says Bill Chambers, SACC President and CEO. "The Chamber wishes to thank Pohanka of Salisbury Automotive for once again donating these fabulous tote bags, all of the businesses that donated, Sigrid Velez, campaign coordinator, and the volunteers that packed dozens of items into 175 bags in record time!"
Items donated included coupons & gift certificates, information about local businesses & organizations, promotional items, and much more.
The following businesses generously donated to this year's Welcome New Teachers campaign:
3D Printing Gear, Affordable Business Systems, Alarm Engineering, Avery Hall Insurance Group, The Bank of Delmarva, BBSI, Bloosurf, Chesapeake Utilities, Choptank Electric Cooperative, Community Foundation of the Eastern Shore, Delmarva Shorebirds, Gamee Elliott – State Farm Insurance, Gateway Pediatrics, Global Play Network, Hebron Savings Bank, Junior Achievement of the Eastern Shore, Kind SBY, Lower Shore Enterprises, M&T Bank, Minuteman Press Salisbury, Perdue Farms, Planet Fitness, Playa Bowls Salisbury, Salisbury University, Sub Runners, TidalHealth, Tweak Systems Computer Repair, United Way of the Lower Eastern Shore, Vernon Powell Shoes, The Ward Museum of Wildfowl Art, Wicomico Public Libraries, Wicomico Youth & Civic Center, and Wor-Wic Community College.
New teachers in Wicomico County Public Schools will be presented with the bags at a Welcome Reception to be held at Wicomico Middle School on August 10th and distributed to Wicomico County private schools that are members of the Chamber.