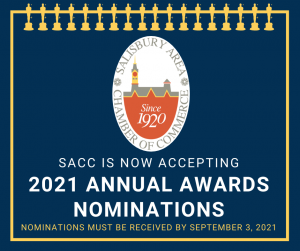 On October 21, 2021 at 11:30 AM, the Salisbury Area Chamber of Commerce will celebrate business and organizational excellence at the Annual Awards Luncheon at the Wicomico Youth & Civic Center Flanders Room. Wicomico Recreation Parks & Tourism will also present its Annual Tourism Awards.
The SACC Annual Awards event recognizes and honors the achievements and efforts of outstanding leaders of the Delmarva area. This is an opportunity to network and celebrate the amazing achievements of our member businesses, community partners, and individuals.
Award categories include:
Member Volunteer of the Year
Ambassador of the Year
Small Business of the Year
Medium Business of the Year
Large Business of the Year
Business Professional of the Year
Environmental Service Award
Agriculture Ambassador of the Year
Non-Profit Organization of the Year
COVID Community Champion
The 2021 Annual Awards include an additional category – COVID Community Champion. 2020-2021 was an unprecedented time for all due to the far-reaching consequences of the COVID-19 pandemic. and everyone was affected in one way or another. This award will be given to an individual, organization, or business that made significant contributions to support businesses, public health, safety, and/or education throughout the pandemic.
If your business is a CURRENT SACC MEMBER and you would like to nominate member businesses and individuals who have made a significant impact within various areas of the Chamber business community, submit your nomination using the ,ink below.
The nominee must be a
CURRENT SACC MEMBER.
If you are uncertain whether your nomination is a current SACC member, please confirm via the
SACC online directory here.
All nominations must be submitted by 5:00 PM, September 3, 2021.
The luncheon is open to members and non-members.
The 2021 Annual Awards Luncheon is sponsored by:
If you would like more information, contact Bill Chambers at bchambers@salisburyarea.com or call 410-749-0144, or visit www.salisburyarea.com.