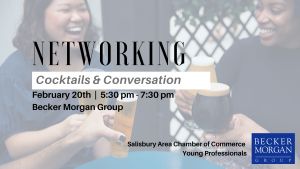 Join us for our second happy hour of 2020, hosted by Becker Morgan Group, Inc. on February 20th. 
Throughout 2020 Cocktail & Conversation events will be held at area businesses and organizations, broadening your exposure to the business community, join us in February to learn about architectural and engineering firm, Becker Morgan Group, while connecting with like-minded young professionals.
The Young Professionals are committed to facilitating impactful networking opportunities to the Salisbury Area Community, and we want you to be apart of the conversation!
We look forward to meeting you!
SACC-YPs is designed for professionals ages 21-35.
Cost includes complimentary hors d'oeuvres and beverages:
$10 SACC Members
$15 Non-Members
REGISTER at www.salisburyarea.com
Host a future SACC Young Professionals event: 
For any businesses who would like to host future YP events please contact Alexis M. Roskovich at aroskovich@beckermorgan.com
SACC Young Professionals: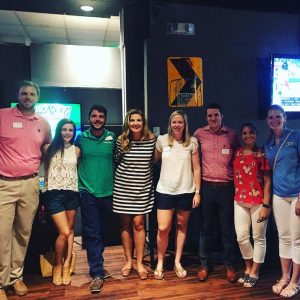 Mission: 
Creating opportunities for young professionals in the Salisbury area to build positive relationships while propelling themselves, their organizations, and the Salisbury Community forward.
The Young Professionals (YPs) organization is designed to connect, empower, and engage the young workforce through social events, volunteer opportunities, and professional development workshops.
Young Professionals Chair:
Alexis Roskovich, Becker Morgan Group – aroskovich@beckermorgan.com
How I become a member? 
Email Alexis M. Roskovich at aroskovich@beckermorgan.com to be added to the email distribution list. Once you join the list, you are a member of the SACC-YPs! You will begin receiving news and information relating to events, programs and everything you need to know about SACC-YPs.
Follow us on Facebook @SACCYPS to stay up to date on all news and events!