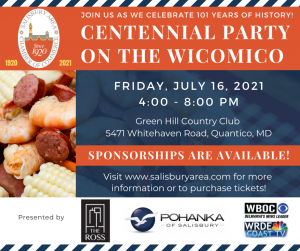 The year was 1920 when a group of business professionals determined that their collective interests need representation and their common goals to grow their businesses and the region required some formalization, thus the Salisbury Area Chamber of Commerce was born!
Fast forward a century and multiple downtown headquarters locations, and the Chamber remains a vital institution representing almost seven hundred businesses and organizations across Delmarva.
This landmark birthday positions the Salisbury Area Chamber among a small and elite group of chambers throughout the country that have accomplished 100 years of local business participation and support.
This milestone could never have been achieved without the thousands of dedicated businesswomen and men who volunteered their time, experience, and expertise. These men and women served on Chamber Committees, on the Board of Directors, and in Executive Leadership roles for the Chamber.
Although too numerous to call out individually, their collective contributions have left an indelible imprint on the entire region. Maryland's lower eastern shore has become "the" place to grow a business, raise a family and enjoy a quality of life unmatched in comparison to other parts of Maryland. That, among other legacies, is the indelible mark made by the Chamber and its leadership over the past century.
Today, the Salisbury Area Chamber of Commerce continues to advocate, educate and connect businesses, their employees, and the greater business and organizational community on the shore. Chamber Committees are vibrant and results-oriented, legislative advocacy is at a laser-focused level and our membership enjoys countless events that foster quality networking opportunities.
Throughout the COVID-19 Pandemic and its grave fiscal and human impacts, the Chamber supported the businesses and organizations by hosting and partnering to provide more than 75 webinars. These sessions ranged from updates on Federal and State relief programs, supporting the restaurant and hospitality industries, strategies to help businesses reopen, and consistent communication with local, State, and Federal elected leaders.
The Salisbury Area Chamber, the Board of Directors, and the Executive leadership are excited and honored to serve the Delmarva region and look forward to supporting our business and organizational community into the next century.
The Chamber is excited to finally celebrate this 100+ year milestone with a "Centennial Party on the Wicomico" presented by The Ross and Pohanka of Salisbury. The celebration will take place on July 16, 2021, from 4:00-8:00 PM, at Green Hill Country Club in Quantico, MD. Guests will gather on the 10th fairway, overlooking the beautiful Wicomico River.
Live music, signature culinary delights, premium open bars, and a chance to commemorate the now 101-year history of the Salisbury Area Chamber of Commerce are just a few of the highlights for this one-of-a-kind event!
Sponsors include:
Presenting Sponsor
Centennial Sponsor
Premium Bar Sponsors
WBOC Delmarva's News Leader & WRDE
Raw Bar Sponsors
Community Foundation of The Eastern Shore
Entertainment Sponsors
Veronica James, Realtor®, ERA Martin Associates
SPONSORSHIP PACKAGES ARE STILL AVAILABLE. For more information, contact Bill Chambers at 410-749-0144, email bchambers@salisburyarea.com.
Tickets are $175 if purchased before June 30, and $200 if purchase after June 30, 2021 and can be purchased at www.salisburyarea.com. Attendees must be 21 years and older.