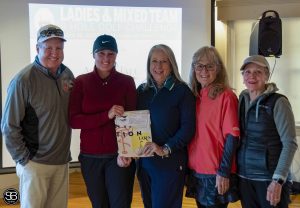 Salisbury, MD – The Salisbury Area Chamber of Commerce held the 4th Annual Ladies and Mixed Team 9 Hole Golf Challenge on Thursday, March 30, 2023, at Green Hill Country Club in Quantico, MD. Pohanka of Salisbury presented this year's tournament.
The event began in 2020 as a fun, no-pressure event for women business professionals to learn about golf and its benefits as a networking business tool. The Chamber encourages ladies that have never played golf to play, allows groups to share clubs, and creates an atmosphere that is not competitive (or intimidating!) The event is genuinely "Fun-For-Everyone" and has drawn new players yearly.
The first tournament began with just five foursomes. The event has grown to a sold-out event with ninety players, using both nine-hole layouts at Green Hill Country Club. Sponsors Trashforce and Visiting Angels provided even more fun with the newly added interactive holes.
The event started with a welcome from Wicomico County Executive Julie Giordano and a 3:30 tee-off. Players gathered afterward for an awards reception in the clubhouse, sponsored by Maryland Broadband Cooperative, Trashforce, and Visiting Angels, and beverages sponsored by BBSI, GiveSendGo, Minuteman Press, Veronica James, REALTOR®, and Phirst Physical Therapy.
Thank you, team sponsors Avery Hall Insurance, Coastal Baths, Homes4Hope, sponsors and SACC members that provided give aways and snack bag filled with goodies, and to Steven Bergman of SB Studios for providing photography.
Congratulations to all players, both new and experienced, the contest hole winners, and the winning Ladies and Mixed Team players.
The Storage Center team, Claire Barr, Pam Idoni, Susan Daugherty, and Inga Hogue, took First Place Ladies.
Second Place Ladies went to the PKS & Company, PA team, Cindy Kleger, Jennifer Frieman, Denise Brewington, and Stacey Weisner.
UMES's Robert Mock, Kevin O'Dell, Jamila Johnson, and Tianna Jones won First Place Mixed Team.
Second Place Mixed team went to Linda Roskovich, Brooke Sharbaugh, Cindy Hall, and Nancy Romagnuolo of Deeley Insurance.
Third Place Mixed Team winners were BBSI's Jim Fuss, Ryan Johnson, Alex Hupke, and Alyssa Sinagra.
Home4Hope players Crystal Ellis, Nikki Parri, Tina Majeski, and Chad Newburger placed as the Fourth Place Mixed Team.
The Ladies Closest to the Pin contest was won by Emily Brohawn (ULWES) of the Pohanka team and Linda Davis of the Veronica James, REALTOR® team. Ladies Longest Drive prize winners were Jennifer Frieman from the PKS & Company, PA team, and Tiana Jones of UMES.
The SACC extends special thanks to the Golf Organizing Committee and Chamber staff. Committee members included; Deanna Whittington, Jim Fuss, Shayne Ray, James "Bo" McAllister, Caroline Carozza, Veronica James, Michelle Low, Melissa Kelly, and SACC Marketing and Events Director Cindy Morgan Chambers.
The 2023 SACC Golf Classic, presented by Spicer Bros. Construction, will be held on September 29, 2023, at River Marsh Golf Club in Cambridge, MD. Teams and sponsorship are available at all levels, including promotion through Chamber marketing outlets. Visit www.salisburyarea.com for more information or contact Cindy Morgan Chambers at amorgan@salisburyarea.com or call 410-749-0144 x 102.