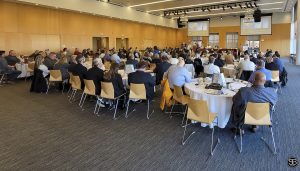 The 35th Annual Southern Delmarva Economic Forecast, presented by the Salisbury Area Chamber of Commerce, the Franklin P. Perdue School of Business at Salisbury University, and BEACON at Salisbury University, was held on Friday, December 2, 2022.
The annual event was attended by business, organizational, and elected leaders from Maryland, Delaware, and the eastern shore of Virginia.
Panelists represented a variety of important issues and topics during the morning sessions of the Forecast.
During the luncheon, the Lower Shore Legislative Delegation members provided an Overview of the upcoming Maryland General Assembly Session, set to convene in January of 2023.
Salisbury University President Dr. Carolyn Ringer Lepre started the day with a warm welcome to the attendees.  Following the welcome, moderator Zach Evans introduced the first panel, which recurs yearly at the Forecast.  The Lower Shore Economic Development Directors provide updates on their respective jurisdictions.
Panelists included Dave Ryan, Executive Director, Salisbury Wicomico Economic Development; Melanie Pursel Director, Office of Tourism & Economic Development at Maryland's Coast, Worcester County; Susan Banks Director, Dorchester County Economic Development; Daniel Thompson, Executive Director, Somerset County Economic Development; William Pfaff Executive Director, Sussex County Economic Development, Delaware; and Robert Sabbatini Executive Director, Eastern Shore of Virginia Chamber of Commerce and Tourism Commission.
Sabbatini gave an overview of Virginia's Eastern Shore economy, "Our tourism numbers are climbing beyond projections; our assets are a huge attraction for out-of-state visitors."
Wicomico County's Dave Ryan shared how resilient the lower shore has been following the pandemic, "Wicomico's employment rates are very high, business growth remains robust, and signs of recession have not appeared to date."
The other Economic Development Directors from Somerset, Dorchester, and Worcester counties echoed that sentiment.
The next panel, Regional Impacts of Partnerships In Space, featured an overview of NASA and its impacts on the Lower Shore economy from three officials representing NASA Wallops Island Flight Facility.
Panelists included David Pierce, Director, NASA Wallops Flight Facility; Jeff Reddish, Chief of the Range and Mission Management Office; and Brian Hall, Project Manager for the Small Satellite and Special Projects Office.
David Pierce noted that continued expansion at NASA Wallops from governmental and private sector concerns would translate into a growing regional economy.  "Job growth will be just one significant impact felt regionally due to the addition of Rocket Lab, Virginia Space, and other commercial companies that will employ NASA to produce deliverables."
The day's third panel, Southern Delmarva Water & Sewer: It's Time to Get Off the Pot, featured three experts representing Delaware, Maryland, and Virginia; Amanda Pollack, P.E. Water Resources Engineer, Center for Watershed Protection, Inc.; Stewart Hall Deputy County Administrator, Public Works & Facilities, Accomack County; and John Ashman Director of Utility Planning, Sussex City, DE on the status of addressing the issues of public water and sewer respectively.
The three panelists agreed we are nearing a crisis stage in some parts of the Lower Shore regarding addressing aging infrastructure, failing septic systems, and water challenges.
John Ashman noted that Delaware has been working to solve some of these challenges.  "Residential and commercial projects were required to build public water and sewer facilities for years, but the challenge is sometimes what is occurring outside of those developments regarding safe water and functioning septic systems."
All panelists agreed that focusing growth in areas that can provide or expand this public infrastructure must be the future for all shore communities.
The fourth panel, Community College Workforce Programs: Business Needs and Wants, closed the morning session.  Steve McGee, President of Chesapeake Shipbuilding Corp. and Vice President of American Cruise Lines, stated, "Finding, filling and retaining skilled labor is the highest priority for Chesapeake Shipbuilding and the future of not only my industry but large scale manufacturing as a whole."
B. Scott Hall, Workforce & Business Solutions Officer, Eastern Shore Community College, added, "Our community college is nimble enough to pivot and address particular industries' needs much more quickly than several years ago."
Pat Townsend, Director of Human Resources at Mountaire Farms, closed the panel by reminding the audience, "College is not the only career path for high school graduates to pursue.  At Mountaire Farms, our career paths are varied and attractive alternatives in an industry that will only grow."
During lunch, representatives from NexAmp, Simple Fiber, and Funfull presented information on broadband, community solar power, and the family entertainment industry.
The afternoon session featured members of the Lower Shore Legislative Delegation.  Senator Mary Beth Carozza, Senator-Elect Johnny Mautz, Delegate Chris Adams, Delegate Charles Otto, and Delegate-Elect Tom Hutchison addressed the audience on a variety of concerns as we near the beginning of the 2023 General Assembly Session.  The panel was moderated by Greg Reddell, State Farm and timed by Karri Todd, SACC Past Board Chair and Shore Insurance – Allstate Insurance.
Higher minimum wages, liability concerns for businesses with recreational cannabis becoming a legal substance, challenges with workers finding available childcare, and more climate change legislation were just a few of the issues the legislators addressed.
On the recreational cannabis issue, Senator Carozza commented, "Regulatory and liability concerns should have been addressed long before this issue went to the voters that past November."
Delegate Adams added, "This entire issue was putting the cart before the horse.  Businesses should have serious concerns about how this will be monitored and implemented."
An audience question centered on the Maryland gas tax and electric vehicles asked how Maryland's Transportation Trust Fund will deal with declining revenues when the mandate for the electrification of all new vehicles sold statewide begins in 2035.
The gas tax currently funds highway maintenance and roadway improvements.
Senator-Elect Mautz challenges General assembly leadership.  "Let's think this scenario through more carefully.  Will Maryland's electric grid handle increasing numbers of electric vehicles?  Will Maryland raise existing gas taxes or contemplate new taxes to account for the loss of highway trust fund dollars?"
Delegate Otto then asked, "How will this affect agriculture as Maryland's second economic industry?"
All legislators agreed that there are more questions than answers regarding the Maryland Transportation Trust Fund.
A full recap of the forecast will be available at PAC14.org.
The Salisbury Area Chamber of Commerce will hold a Post-Legislative Luncheon on April 20, 2023, at 11:30 AM at the Wicomico Youth and Civic Center to recap the General Assembly Session. For more information visit salisbruyarea.com.
The event was made possible by the following sponsors: Presenting Sponsors BEACON at Salisbury University and the Franklin P. Perdue School of Business; Media Sponsor WBOC; CEO Level Sponsors D3 Corp., Funfull, GiveSendGo, Orsted, Pohanka of Salisbury, and Simple Fiber; Chairman Level Sponsors Avery Hall Insurance; CareFirst Blue Cross Blue Shield, Compass Advocacy, Delmarva Power, Effectv, M&T Bank, Mountaire Farms, NexAmp, Perdue Farms, TidalHealth, Truist; Board Level Sponsors Associated Builders & Contractors Chesapeake Shores, Bancroft Construction Company, The Bank of Delmarva, BBSI, Chesapeake Utilities, Delmarva Veteran Builders, Greg Reddell State Farm Insurance Agency, Hebron Savings Bank, Maryland Small Business Development Center Eastern Region, Peninsula Roofing Company, Inc., PKS & Company, P.C., Provident State Bank, SVN Miller Commercial Real Estate, Tri-County Council for the Lower Eastern Shore of MD, Wor-Wic Community College, and W.R. McCain & Associates; Supporter Level Sponsors Choptank Electric, Davis, Bowen & Friedel, Inc., Delmarva Chicken Association, Gillis Gilkerson, Minuteman Press, NAI Coastal, PennTex Ventures, and Salisbury Wicomico Economic Development. Photography provided by Steven Bergman, SB Studios.
Brian Hall, Project Manager for the Small Satellite and Special Projects Office, NASA Wallops Flight Facility