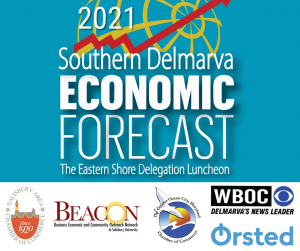 RESCHEDULED
The 33rd Annual Southern Delmarva Economic Forecast has been rescheduled to Wednesday, April 28, 2021, beginning at 7:30 AM, at the Roland E. Powell Convention Center in Ocean City, Maryland. The Eastern Shore Delegation Luncheon will follow at 12:30 PM.
This decision was made in the safety and health interests of our generous sponsors, attendees and panelists given the rapidly changing situation with State-imposed mandates governing COVID -19 and pubic events.
The April 28, 2021 Economic Forecast curriculum will remain the same; regional economists and business leaders will analyze the challenges facing the regional, national, and global economy. Additionally, our full Lower Shore Legislative Delegation will be on hand to answer questions from the recently completed 2021 General Assembly Session on business legislation that is set to become law.
Presented by Salisbury Area Chamber of Commerce and BEACON at Salisbury University, the event is an unparalleled opportunity to hear first-hand what leading regional economists and business leaders believe to be the biggest achievements and challenges ahead. This event is the Chamber's 33rd Annual Economic Forecast and is designed to help Delmarva businesses and the community plan for expected economic conditions within the future year ahead. Experts from around the Eastern Shore will gather to analyze the current challenges facing the regional, national and global economy.
In accordance with CDC guidelines, this event will be socially distanced and masks are required.
Presentations this year will feature What's Next? A National and Regional Economic Outlook with Dr. Memo Diriker, Director, The Business, Economic, and Community Outreach Network at Salisbury University, and Dr. Dustin Chambers, Professor of Economics, Franklin P. Perdue School of Business at Salisbury University.
The second panel of speakers will feature Our Economic Development Directors Dave Ryan, Salisbury Wicomico Economic Development; Melanie Pursel, Worcester County Economic Development, Office of Tourism; Susan Banks, Dorchester County Economic Development; Danny Thompson, Somerset County Economic Development; William Pfaff, Sussex County Delaware Economic Development; and Rich Morrison, Accomack County Virginia Economic Development.
Rural Broadband will be the focus of the third panel, featuring Brian Pettyjohn, Delaware State Senator; Mike Mason, Accomack County Virginia Administrator; and Valerie Connelly, VP of Government Affairs & Public Relations, Choptank Electric Coop.
The fourth panel, Fun, Fit & Grow, will cover topics related to healthcare, tourism and features Steve Leonard, President &  CEO, TidalHealth; Richard Willey, President, Perdue Agribusiness – Perdue Farms; and Susan Jones, Executive Director, Ocean City Maryland Hotel, Motel, Restaurant Association.
Following the Forecast, the Eastern Shore Delegation Luncheon will feature the entire Lower Shore Legislative Delegation and their thoughts on what will be the "hot button" issues for the 2021 Maryland General Assembly session. The panel will have a moderator overseeing the Q & A.
Attendees will hear from Senator Marybeth Carozza, Senator Addie Eckhardt, Speaker Pro Tem Delegate Sheree Sample-Hughes, Delegate Christopher Adams, Delegate Johnny Mautz, Delegate Carl Anderton, Delegate Wayne Hartman, and Delegate Charles Otto.
Along with the Salisbury Area Chamber of Commerce, the event will be presented by BEACON at Salisbury University, Media Sponsor WBOC – Delmarva's News Leader, and CEO Level Sponsors Greater Ocean City Chamber of Commerce, and Ørsted.
SACC wishes to thank this year's event sponsors, including Chairman Level Sponsors Avery Hall Insurance, Effectv, Chaney Enterprises, Perdue, Pohanka of Automotive, TidalHealth, and The Voice Radio Network; Board Level Sponsors Allen & Shariff Engineering, LLC, Associated Building Contractors, Chesapeake Shore, BBSI, Chesapeake Utilities, Coastal Association of Realtors, Delmarva Power, Delmarva Veteran Builders, Fairchild Properties, Gillis Gilkerson, Greg Reddell State Farm Insurance Agency, Mountaire Farms, PKS & Company, P.A., Shore Transit, Salisbury Wicomico Economic Development, Small Business Development Center at Salisbury University, SVN Miller Commercial Real Estate,  Tri-County Council for the Lower Eastern Shore of Maryland, and Worcester County Economic Development; Supporter Level Sponsors Bank of Delmarva, Davis, Bowen & Friedel, Inc., Minuteman Press Salisbury,  NAI Coastal, Provident State Bank, and W.R. McCain & Associates.
Sponsorships for the event are still available, including CEO, Chairman, Board, and Supporter Levels.
The cost for the event is as follows: Full Event for Members $75, Full Event for Future Members $100. To sponsor or register for the event, visit salisburyarea.com, email bchambers@salisburyarea.com or call the Chamber at 410.749.0144.
The Dunes Manor Hotel is offering a special $79 room rate for all Economic Forecast attendees from April 26 – 28, 2021. Reservations can be made here.
We look forward to seeing everyone in a safe and socially distanced setting in Ocean City Maryland on April 28th!