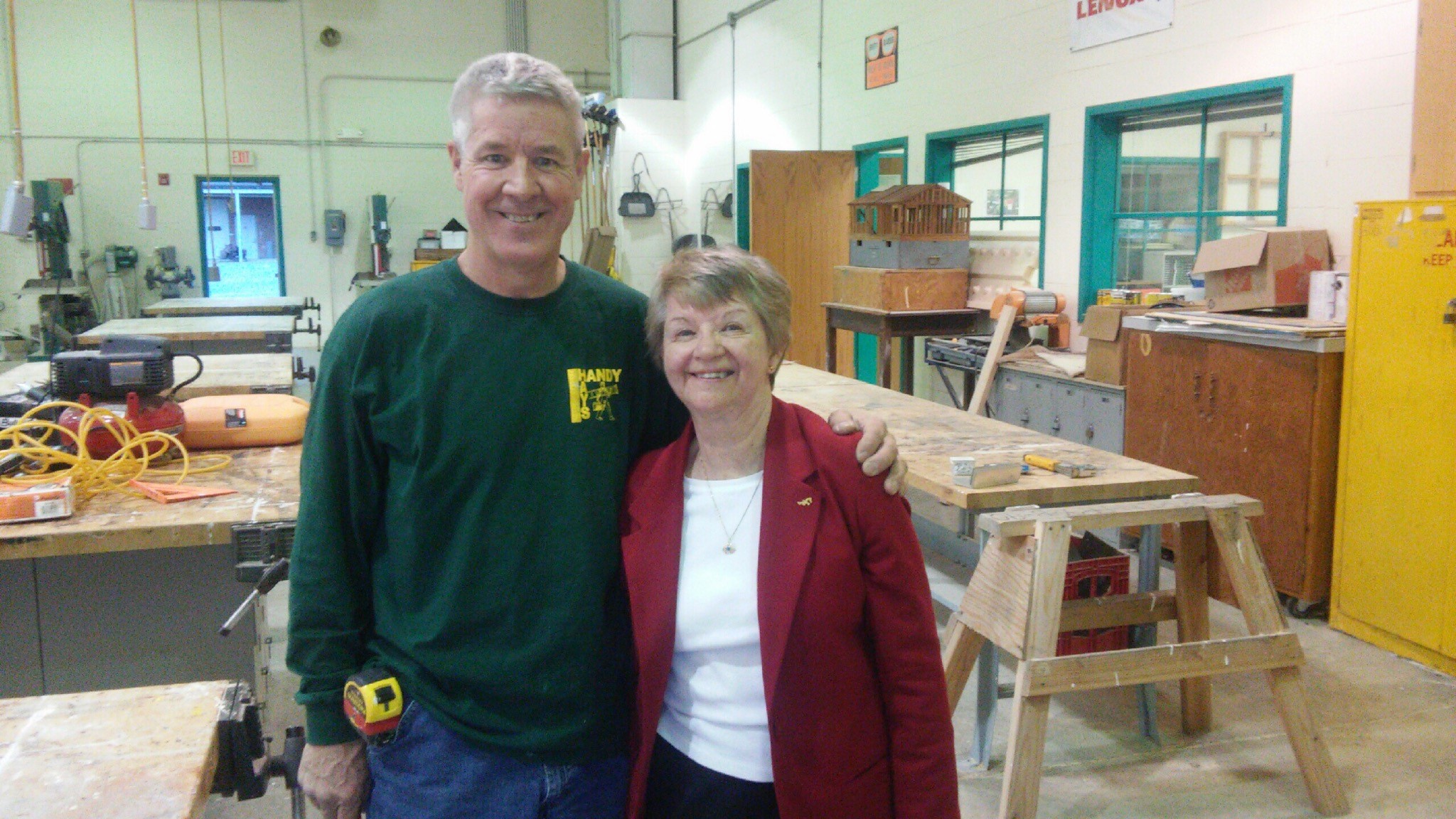 Pictured: Joan Strang and Bill Hasse
President and CEO of the Salisbury Area Chamber of Commerce recently met with Joan Strang, Vice President of Government Affairs for the Maryland Building Industry Association – Eastern Shore to learn more about their organization's participation with local educational entities.
The Chapter merged in 2014 with Maryland Building Industry Association (MBIA).  They operate under the umbrella of the MBIA and their members are residential home builders.
In 2015, Strang was hired and tasked with revitalizing the Eastern Shore Chapter. Her membership coverage includes Worcester, Wicomico, Somerset and Dorchester Counties. She soon found that her members were expressing a need for employees.
"It seems like everyone was going to college and no one was interested in a career in the trades. I contacted Wor-Wic Community College to see if they had any continuing education classes in construction.  At the time the only thing they had going was a welding class."
Despite this, she said they were interested in finding out what she needed.
"Carpentry was number one on my members list.  Wor-Wic and One Stop Job Market put together Strategic Industry Partnership Committee to discuss what the community needed and how to obtain it.  Three of my members served on this committee.  They decided to see if there was any grant money available from the state that we could use to pay students tuition for Continuing Education Classes."
Ruth Baker, Dean of Continuing Education-Workforce Development wrote the grant with input from the committee and received letters of support from the members to include with the grant.  Wor-Wic received a 2-year grant to support a Carpentry Class. One of her members, Bill Haase of Handy Hays Remodeling is the lead teacher for the class.
In addition to the Carpentry Class, the MBIA Eastern Shore has participated in a "Construction Career Café" at Snow Hill Middle School for the last two years.  Several of her members participate, talk about the different trades, and do a demonstration each year that she says, "really gets the students attention."
Part of this includes a 2-minute video on "Consider the Trades as a Career" which her grandson made. It explains to the students "that the sky is the limit if they want to go into the trades."
Chambers said that the organization was helping to provide much needed awareness of programs that can help expand and profit businesses around the region.
"It perfectly aligns with our slogan: Education. Advocacy. Connection. That's what the Chamber is here for."
For more information you can contact the Maryland Building Industry Association – Eastern Shore at 410-845-0132. The video is also available at  http://www.strang-moya.com/about.html.