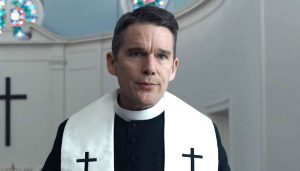 SALISBURY, MD—The Salisbury Film Society presents the Academy Award nominated, First Reformed 2:30 p.m. Sunday, March 3, in the Fulton Hall Film Center at Salisbury University.
Ethan Hawke plays a reverend who must come to terms with the tragedies surrounding his life while mourning the loss of his son. Through seeking a deeper religious experience, he begins to solidify a relationship with a woman who also is coping with tragedy.
"First Reformed is an amazing examination of faith, a film that stays with you after you have left the theater," said Arizona Republic's Bill Goodykoontz. The Los Angeles Times' Justin Chang called it "an exquisite piece of filmmaking that is easily this director's finest work in years."
The SFS series is co-sponsored by the Salisbury Wicomico Arts Council (SWAC) and SU's Charles R. and Martha N. Fulton School of Liberal Arts.
Tickets are $9, $8 for SWAC members, and free for university and college students with ID. For more information call 410-543-ARTS (2787) or visit the SWAC website at www.getSWAC.org.