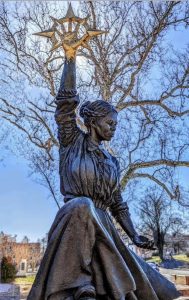 Salisbury, MD – Salisbury is set to shine brightly as it celebrates artist Wesley Wofford's heralded sculpture Harriet Tubman – "The Beacon of Hope" on Wednesday,  November 15, 2023. The statue, on loan to Salisbury until January 31, 2024, promises to inspire hope,  transformation, and accountability. Community members, organizations, and businesses are strongly  encouraged to attend. This historic event is an invitation to create, collaborate, and serve your community;  to #BetheBeacon. 
Key Event Details: 
– Date: November 15, 2023  
– Time: 2:00 PM – 4:00 PM  
– Location: Government Office Building, 125 N Division St, Salisbury, MD 21801  
– Enjoy music from the Salisbury University Gospel Choir, a presentation from Anthony Ross, direct  descendant and founder of the Harriet Tubman Ross Foundation, and short readings from poet Nancy  Mitchell, and playwright Matt Bogden. Take advantage of this opportunity to network with your  community organizations. Event merchandise will be available for sale.  
In the words of Wesley and Odyssey Wofford, "The Beacon of Hope" is a monument that tells Harriet  Tubman's story, so that all may learn from it; that amplifies her message of equality, so that all may hear  it; and that chronicles her journey, with the hope that we all find the inspiration and the courage to walk  in her footsteps." 
"We are honored to be collaborating with the community of Salisbury, MD, and to be a part of such a  robust and meaningful conversation. The programming built around "Harriet Tubman – The Beacon of  Hope" is so inspiring, and we are grateful the City has embraced the message #BetheBeacon. The City  
and organizations involved in this event expand the message to broaden valuable dialogues in the  community. We hope that it will be a nationwide model for how other communities can use art as a  vehicle for social change. " 
The November 15th arrival in Salisbury of "Harriet Tubman – The Beacon of Hope" has already  springboarded plans for visionary programming including:  
Ɣ Community Art Projects: Engaging residents in creative endeavors to honor Tubman's impact. 
Ɣ Historical Exhibitions: Showcasing Tubman's history and local heritage.  
Ɣ Social Justice Initiatives: Encouraging dialogue on social justice issues and actions toward equity.  
Ɣ Heritage Dinner: Celebrations of diversity and inclusion.  
Ɣ Leadership Programs: Empowering local leaders to promote change. 
Ɣ Community Service: Volunteering efforts to support the underserved.
Ɣ Public Lectures and Seminars: Learning opportunities on relevant topics.  
Ɣ Environmental Initiatives: Engaging in sustainable practices and conservation. 
Ɣ Collaborative Art Installations: Art projects symbolizing unity and positive change.  
These initiatives are just a glimpse of how the arrival of the sculpture is inspiring the community to come together and foster a brighter future in 2024. For more information, contact:  
skearsley@vehiclesforchange.org 
Says Mayor Jack Heath, "We are thrilled that "The Beacon of Hope" has found a temporary home here in the City of Salisbury. This statue has the power to inspire thought, spark conversation, and strengthen  our community." 
To join the conversation: Stay connected with the #BeaconOfHope initiative on social media:  https://www.facebook.com/harriet.tubman.the.beacon.of.hope.sby 
Use and search #BeTheBeaconSBY and #BeaconOfHope to share your thoughts and moments of inspiration. 
Event Sponsors: 
Ɣ Pohanka Automotive of Salisbury 
Ɣ Salisbury Area Chamber of Commerce 
Ɣ Vehicles For Change Delmarva, an initiative of the Greater Salisbury Committee 
About Vehicles For Change Delmarva  
Vehicles for Change Inc. (VFC) empowers families with financial challenges to achieve economic and personal independence through car ownership and technical training. In 1999,  Vehicles for Change opened outside of Baltimore, Maryland. After building sustainable car award and automotive training programs in the Maryland-Virginia-Washington D.C. region,  VFC began work to replicate those programs nationally, aiming to bring independent transportation and training in the automotive field to as many people as possible.