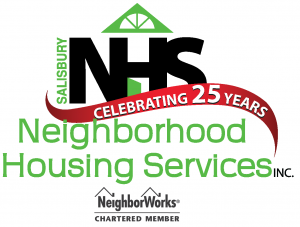 SALISBURY, MD – March 13, 2019- Residents on the Delmarva Peninsula dream of becoming homeowners and many do so with the help of Salisbury Neighborhood Housing Services, Inc (SNHS).  With 25 years of service to Salisbury and the surrounding community, hundreds of families have been positively affected by the organization.
From the redevelopment of an entire city block – Rose Street, to greeting clients in our office on a daily basis for financial counseling, SNHS has continued to be a major advocate for cultivating sustainable neighborhoods and encouraging self-reliance.  The agency looks forward to engaging and welcoming even more community members and happy homeowners to our new office during our ribbon cutting and open house on March 27, 2019 at 4:30 PM.
The entire staff at Salisbury Neighborhood Housing Services, Inc. is proud to showcase our new location in the Riverside Professional Center, located at 560 Riverside Dr. Suite A102, Salisbury, MD 21801.  The office is complete with six offices, a lobby with receptionist area and conference room for various meetings.  Executive Director, Cheryl Meadows says, "The new space allows for a bigger working environment, easier access and for the potential to allow on-site E-Home America Homebuyers Education testing."
Those interested in attending the celebration can expect to hear from various entities on the successes of SNHS as well as touring the new office while enjoying heavy hors d'oeuvres and libations.  Confirmation of attendance is suggested by March 21, 2019 to SNHS Marketing Officer, Amanda Smith at asmith@salisburynhs.org.
About Salisbury Neighborhood Housing Services
Salisbury Neighborhood Housing Service (SNHS) is a 501c(3) non-profit organization serving targeted neighborhoods and populations in the City of Salisbury and Wicomico County. Its mission is to cultivate sustainable neighborhoods with partnerships and lending that inspires self-reliance, growth and optimism. For more information about SNHS, visit www.salisburynhs.org or call 410.543.4626.
Contact: Marketing Officer, Amanda Smith
Salisbury Neighborhood Housing Services Inc.
410.543.4626