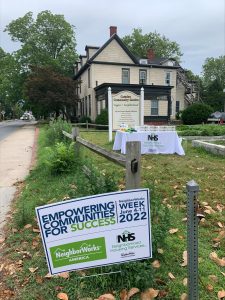 Salisbury Neighborhood Housing Services, Inc (SNHS), a member of the national NeighborWorks network would like to thank the participants who took part in the recent Home Buyer Education Course during their NeighborWorks Week events.
"We are thrilled we had the opportunity to help members of our community build a better understanding of the home buying process and how to make it successful for them and their families," said Cheryl Meadows, executive director, SNHS.
After lunch, the Growing Together Garden event allowed a handful of volunteers to get their hands dirty by weeding the Camden Community Garden, a local asset that provides fresh plants and vegetables to the surrounding neighborhood.
Cheryl Meadows, Salisbury Neighborhood Housing Services director, Pastor Martin Hutchison, Camden Community Garden, and Jane Hoy, SNHS assistant director
Jane Hoy, Salisbury Neighborhood Housing Services (SNHS) assistant director, Tim Stock, neighborhood resident, Cheryl Meadows, SNHS director and Isaac Stock.
About Salisbury Neighborhood Housing Services
Salisbury Neighborhood Housing Service (SNHS) is a 501c(3) non-profit organization serving targeted neighborhoods and populations in the City of Salisbury Wicomico, Worcester, and Somerset Counties. Its mission is to cultivate sustainable neighborhoods with partnerships and lending that inspires self-reliance, growth, and optimism. For more information about SNHS, visit www.salisburynhs.org or call 410.543.4626.