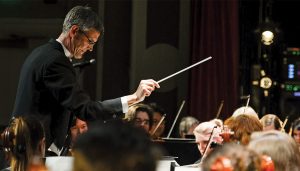 SALISBURY, MD—Pianist Ernest Barretta joins the Salisbury Symphony Orchestra at Salisbury University (SSO) for the concert "Rachmaninoff's Realm" 7:30 p.m. Saturday, May 11, in Holloway Hall Auditorium.
Directed by Dr. Jeffrey Schoyen, the performance culminates SU's annual Spring Music Festival. The program includes Rachmaninoff's "Piano Concert No. 2 in C, Op. 18" and Liszt's Les Préludes, as well as upbeat works by Gershwin, Porter and Ellington.
A successful soloist and chamber musician, Barretta has performed extensively throughout the U.S. and Canada. A member of the piano faculty at Juilliard School of Music, he recently appeared at the Seoul Music Festival and Academy in South Korea. A collaborative artist, he has played with such internationally recognized musicians as baritone Christopher Robertson and trumpeter Terry Everson. He studied at Oberlin Conservatory and earned a D.M.A. from Peabody Conservatory.
He has performed as a soloist with the St. Petersburg Symphony in Russia, National Gallery Orchestra of Washington, D.C., and the Mid-Atlantic Symphony Orchestra. He also is a founding member of the Allegheny Ensemble. This is his second appearance with the SSO.
The Washington Post has hailed Barretta's playing as "stylish and expressive," adding, "The Capricious spontaneity was exactly right and showed what Barretta can do when he puts everything on the line."
Admission is $25, $20 for seniors age 60 and older, $10 for SU faculty and staff, and $5 for students and children 18 and under. Advance tickets are available online at www.SalisburySymphonyOrchestra.org and at the Guerrieri Student Union Information Desk.
For information call 410-543-8366 or visit the SSO website.