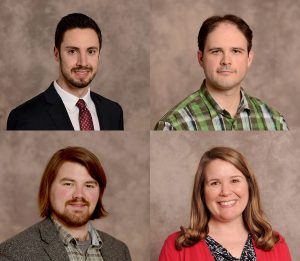 SALISBURY, MD—Salisbury University recently announced the members of its 2019-20 Assessment Fellows cohort.
They are Drs. Vincent Genareo, assistant professor of early and elementary education; Stephen Habay, assistant professor of chemistry; Shane Hall, assistant professor of environmental studies; and Heather Porter, assistant director of the SU Center for Student Achievement (CSA).
Fellows work with the University Analysis, Reporting and Assessment Office and SU's Scholarship of Teaching and Learning Faculty Learning Committee to explore, implement and promote best practices in assessment. Each receives a $900 stipend to support a project proposed by the fellow.
Genareo will provide advising for instructors to improve course assignments, as well as web-based assessment resources for faculty and staff. Habay will examine Specifications Grading (Nilson, 2015) in chemistry courses.
Hall will conduct focus group research and assessment related to diversity, justice, equity and inclusion in  environmental studies programs at SU and St. Mary's College of Maryland. Porter will assess peer-led support programs in the CSA.
All will present their projects on campus during the 2019-20 academic year.
For more information call 410-543-6030 or visit the SU website at www.salisbury.edu.